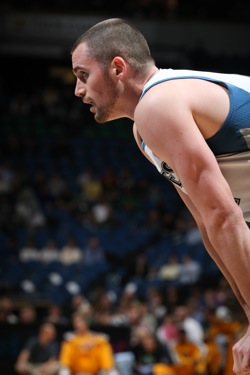 Posted by Royce Young
(When do you think people will stop using a form of that headline for questions about a topic? I mean, it's been almost four years since that movie came out. Anyway, on to the point.)
After a summer tearing up the world on the glass at the World Championships and a preseason where he put up 32 and 20 in 28 minutes of action, the common thinking was that
Kevin Love
would finally start getting the minutes he deserved.
Most agree he's the Minnesota
Timberwolves
best player. Everyone agrees he's at least a very good player. And yet in the Wolves opener against the
Kings
, Love played only 24 minutes and sat the last eight despite playing well with 11 points and 10 rebounds. So why did he sit?
Kurt Rambis offered an explanation,
via the Star Tribune,
when asked why he sat his best player:
That's your opinion," he said. "I thought Anthony (Tolliver) was doing the things defensively that we need. It was nothing against Kevin. I thought A.T. was doing a good job. I thought that he was moving his feet well. He challenged shots. He blocked shots.

"Rather than turning it into a derogatory thing with Kevin, it's a complimentary thing toward A.T."
Except I don't think Love took it that way. However, to Rambis' point, Tolliver did do well in weakside help, highlighted by this fairly excellent block. But at the same time, sitting Love the final 8:24 and playing him just 24 minutes compared to Tolliver's 28? How did Love feel about that?
... well?
Oh, Love didn't say anything. Because he skipped out of the locker room before reporters could ask. In other words, he's not happy about it. Last season, everyone thought Minnesota had one of the most promising frontcourts in the league with Al Jefferson and Kevin Love. Now, it looks like both could be run out of town and replaced with Darko Milicic and Anthony Tolliver. Yee-haw!
I thought this flowchart from Canis Hoopus put it well:
That sums it up pretty nicely. The other team got a rebound? Bench Kevin Love. The other team is scoring? Bench Kevin Love. The halftime show was subpar? Bench Kevin Love. It's really kind of how it works.
Is this a one game thing or will this become routine for Rambis? There's no doubt Love deserves at least 30 minutes a night and probably more. It's hard not to wonder if the Wolves would've won the game against the Kings if Love had played the last eight minutes (they lost 117-116). Love isn't a great defender, but that doesn't mean he shouldn't play. Carmelo Anthony is probably Denver's worst defender too, but he's not sitting down in crunch time.
They said it was all about transparency and honesty in Minnesota now. I think if they were being transparent here, they'd say, "For whatever reason, we just don't like Kevin Love. Or really, we just prefer to lose." Because as far as explaining why he plays just 24 minutes, there's no transparent or honest answer that makes sense.
There are a lot of problems in Minnesota right now from the existing roster, to Ricky Rubio to injuries. But a lot of those things can be helped by one simple basketball principle: Play your best players. Unless Kurt Rambis figures that out, he may be watching another one walk out the door with only a couple draft picks in return.