The Miami Heat have reportedly not yet sold out their home opener against the Orlando Magic.
Posted by Ben Golliver.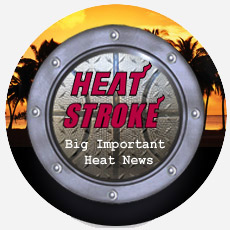 While the Miami Heat didn't have any problem drawing television viewers for their season opener in Boston against the
Celtics
--
7.4 million people reportedly tuned in
-- the same cannot be said for gate attendance in both Philadelphia Wednesday night and Miami on Friday night. Henry Abbott
reported Wednesday
night that he was able to walk into Wells Fargo Arena in Philadelphia and purchase tickets while the
76ers
vs. Heat game was underway. Abbott wrote that he had plenty of tickets to choose from. And Brian Windhorst
reports on Twitter
Thursday that Miami Heat sources have indicated that "several hundred tickets [are] left for their home opener" against the Orlando Magic on Friday night. While it's one thing to not sell tickets on the road in Philadelphia, a town that has endured a lot of bad basketball in recent years, it's quite another to not receive a King's welcome for the team's regular-season home opener, against a major division and conference rival and played at a marquee time (Friday night). While the game will no doubt sell out by tip off tomorrow night, Thursday's report raises two questions. First, what does this say about NBA ticket prices if millions watch at home but 10,000s aren't piling in to see history first-hand? Second, if the online and television interest nationally is so much greater than the local interest, have we seriously underestimated the number of people who are tuning in solely to see James, Wade, Bosh and company fail?