Washington Wizards point guard John Wall made his NBA debut on Thursday. How did Wall do and how did it compare to the debuts of other elite point guards? Posted by Ben Golliver.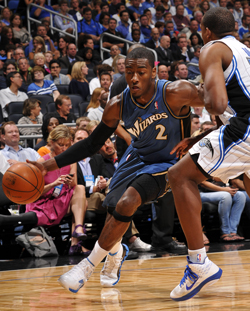 The Great Wall of China wasn't built in a day, and neither was John Wall's NBA Hall of Fame résumé.
Wall, the No. 1 overall pick in the 2010 NBA Draft, made his NBA debut for the Washington Wizards on Thursday night, going head-to-head with one of the league's perennial powers, the Orlando Magic. It wasn't a pretty sight for the Wizards: a 112-83 defeat that, remarkably, was even more thorough than the score suggests.
Wall's debut was a clunker – he struggled mightily with his jump shot, finishing just 6-19 from the field – but it wasn't all bad.
"He's quick, he's fearless, he seems like a floor general out there controlling the team, and that's a good start," Orlando Magic guard Vince Carter told TNT's Craig Sager at halftime. A good start was about the best Wall could hope for, debuting against one of the league's least forgiving defenses.
Despite the blowout loss, there were both promising signs and areas for improvement. Let's break down John Wall's NBA debut and grade it out.
Playing Time: A-
Wall played 35 minutes tonight, including the entire first and third quarters. He committed just three fouls and pushed the pace whenever possible, so he aced two early tests for rookie point guards: avoiding unnecessarily dumb mistakes while playing defense and being properly conditioned to play heavy minutes against big, physical defenders.
Running The Offense: B-
Wall possesses a number of abilities that make him an ideal NBA point guard on the offensive side of the court. He has the off-the-dribble quickness and passing ability to be lethal in the high screen and roll. He locates his passes very well. His mentality is a solid hybrid between attacking and pass-first, so he is able to generate points for himself and open looks for his teammates simultaneously.
Tonight, the Orlando Magic dared him to shoot the pull-up jumper, and he couldn't resist, nor could he knock it down consistently. None of his attempts were truly ill-advised, but many were far too passive. Wall will learn, and learn quickly, that just because a team gives him a good shot doesn't mean he can't generate a better one.
The passivity spread to his teammates too, and while he hit Washington's perimeter shooters on the money time after time, they simply couldn't knock down shots. The Wizards managed just 15 points in the entire first quarter and shot just 21.1% from 3-point range on the night.
The open shots that the Wizards did knock down, though, were almost all created by Wall. He found fellow guard Kirk Hinrich for multiple 3-pointers and set up both Cartier Martin and Andray Blatche for jumpers. Wall finished with nine assists; his teammates potentially left another nine on the table.
In the future, Wizards coach Flip Saunders will want Wall to increase his assertiveness, especially from the perimeter in the team's halfcourt sets, to increase his team's overall energy. Wall avoids a lower grade in this category because of the strength of the competition. Defensive Player of the Year Dwight Howard limits any attacking point guard's ability to break down the interior of a defense, and Howard swatted Wall on multiple occasions Thursday night.
Scoring/Finishing: C
Given how often he touches the ball and his immense ability in the open court, Wall should have no trouble averaging 15+ points per game immediately. Tonight, he struggled hitting the open shot, finishing at the rim and he wasn't able to get to the free throw line as frequently as star players in the NBA usually do. His point total reflected those struggles.
Howard's ability to contest layups and runners played a big part, and when Wall was able to get free in transition his finishing was markedly better. In one instance, he shook Chris Duhon so hard with a head fake near the rim that Duhon wasn't even able to gather himself to jump as Wall completed the uncontested layup. Whenever Wall was able to push the tempo, even in semi-transition against a set Orlando defense, the head start opened better creases for him to get to the rim. Washington will learn that the tempo will never be too fast with the ball in his hands: more good things will happen than bad.
Play making/Passing: B
Wall made far, far more good reads than bad reads, and his three turnovers came on the rare occasions he tried to make something out of nothing. As mentioned, his teammates did him no favors with their cold shooting. Wall was a bit tentative with his passing, preferring to hit the safe, open man rather than thread the needle. Elite NBA point guards are able to do both, and Wall didn't show that ability on day one like he did last season at the University of Kentucky.
His best plays, both going to the basket and setting up teammates, came in transition. His first NBA basket came when Howard goaltended his coast-to-coast layup attempt, and he drew multiple fouls on Magic defenders that were trying to slow him down.
One promising playmaking flash came when Wall crossed over at the top of the key, losing his defender completely and hitting a wide open passing lane to Hilton Armstrong, who was cutting to the hoop. The Magic were forced to foul Armstrong to prevent the bucket.
On-Ball Defense: B
Wall competes very hard on the ball and his long arms caused some problems for Magic point guard Jameer Nelson. Wall was able to cleanly pick off one entry pass and he harassed Nelson into a few other bad decisions.
He gets docked points here because Magic guard Quentin Richardson was able to exploit his size advantage twice, taking Wall into the post when the two were cross-matched, getting one basket and forcing Wall to foul the second time. Wall also had a poor close out on Carter, who was able to blow by him to the basket, drawing a late slap foul for an and-one.
Team Defense: Incomplete
The Wizards didn't play much team defense tonight, so it's really hard to assess this properly. The Magic picked them apart with ease, shooting 55.8% as a team on the evening. Wall made the appropriate rotations, when it came to that, but was often a non-factor on the weakside as his teammates watched open Magic shooters drain from everywhere.
Rebounding: C
Wall was a non-factor on both the offensive and defensive glass, which should come as no surprise because his team was out-rebounded, 53-25. You can't really blame a point guard for those numbers, but Wall may need to expend more energy crashing the glass as the season wears on, if his team's bigs plan on disappearing so completely on a regular basis.
The one rebound Wall did grab was quite nice, as he immediately pushed the pace in transition, setting up Armstrong in the paint. Unfortunately, Armstrong was whistled for a player control foul.
Turnovers: A-
All three of Wall's turnovers came in the few moments he looked like he was rushing. Two came on jump passes, and another came on the final possession of the first quarter, when he looked for a dribble drive and dish that simply wasn't there. Considering the quality of the Magic defense, how many touches Wall had tonight and his past problems with turnovers, like at this year's Summer League, there's no shame at all in committing three turnovers.
Overall: B-
It's hard to give Wall anything better than a B- for his NBA debut, given that his team was blown out. With that said, it's equally difficult to be hard on him given the circumstances. Wall managed to play calm, intelligent and, at times, exhilarating basketball in a showcase game on TNT against an elite defense. That's a positive first step, despite the ugly shooting and stretches of hesitant play.
Wall finished with 14 points, one rebound, nine assists, three steals and three turnovers in 35 minutes during his NBA debut. Here's a look at how that line compares to the NBA debuts of other elite point guards.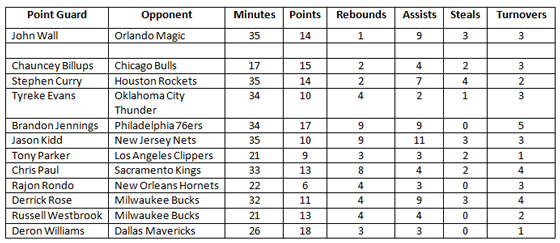 All numbers courtesy of
Basketball-Reference.com
.