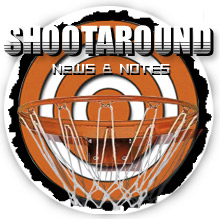 Posted by Royce Young
Shoals, writing for Deadspin, on the Heat: "It turns out that LeBron James really isn't like physics. He's more like outer space. James is the sun, and cold, dead Cleveland, his moon — appearing to shine down on us, sometimes just as brightly, or at least bright enough that you forget it's all reflected light. Every LeBron story is also a Cavs story; every Cavs story can be tied back into LeBron. I find myself in the habit of still tagging my own stories about LeBron with "cavs" — hey, maybe Gilbert and the fans were right. He really does belong to them."
Darnell Mayberry of The Oklahoman on Jeff Green's non-extension : "By choosing to not re-sign now, Green could potentially forfeit millions of dollars. NBA commissioner David Stern has said league owners are seeking to slash player salaries by up to $800 million in the new labor contract. The new CBA also could contain cutbacks on players' annual raises, as well as the number of years contracts can be signed for. For instance, instead of signing a five-year extension with 10.5 percent annual raises, Green could have to settle for a three- or four-year deal with 8 percent raises. Additionally, Green runs the risk of injury this season, which could destroy his value on the open market. So, too, could an unproductive season."
Rashad Mobley of Truth About It on Washington's first outing: "At one point in the third quarter, Andray Blatche took such a bad shot, that Marv Albert and Steve Kerr, went on a two-minute rant about how demoralizing it must be for the other Wizards, when a bad shot is taken. By my informal (yet accurate) calculations, not one of Blatche's nine shots came in the paint in a post up position. Instead of playing in the post, where Coach Saunders has frequently asked him to play, Blatche was content on launching outside shots, which led to long rebounds, which led to easy Orlando baskets."
Eddy Rivera of MagicBasketball: "A lot of kudos should be given to Orlando for emphatically beating an inferior opponent. However, the Wizards made things too easy for the Magic by offering little resistance in terms of interior defense. According to Hoopdata, Orlando shot 18-of-21 at the rim and 10-for-15 inside 10 feet. Add to the fact that the Magic were able to get to the free-throw line a total of 32 times, and it's easy to see why this game was barely competitive after the opening tip."
Orlando has quite the introduction video says Evan Dunlap of Orlando Pinstriped Post: "The Magic's pregame introduction video is astounding. I won't insult you by saying it alone is worth the cost of admission, but it's indeed powerful. It features great moments in Magic history--Nick Anderson stealing the ball from Michael Jordan and the Magic drafting Dwight Howard, for example--as projected on downtown Orlando landmarks. I admit I'm more prone to sentimentality than most folks, but I got a bit choked up watching it. My description isn't doing the video justice."