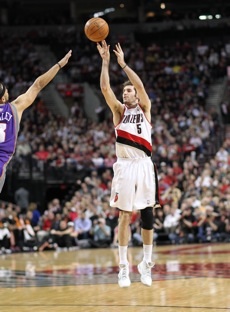 Posted by Royce Young
Both
Rudy Fernandez
and his people haven't done a very excellent job of keeping their mouths shut lately. He wants (or wanted, at least) out of Portland and made that position pretty clear and pretty public. And as a result, the league stamped a $25,000 fine and then a $50,000 ticket.
I guess Fernandez accepted the first one, because with the lastest one, he's filed a grievance with the league,
according to Marc J. Spears of Yahoo! Sports.
The fine stemmed from comments Fernandez's unofficial agent, Gerard Darnes, who made on his behalf to a Portland radio station. Basically, Darnes said Rudy wanted out of his contract and to return to Spain. This was the second time Fernadez (or his representation) had gone public with his desire to leave the Blazers so the league upped the ante.
What's interesting is that Fernandez appears to be happy and doing well in Portland right now. His big complaint was his role and playing time, but in two games, he's playing an average of about 18 minutes a game and has produced relatively well in that time scoring eight then seven points in two games. He's has a good attitude and hasn't appeared frustrated in the slightest.
Rich Cho has made it pretty clear Fernandez won't be released and likely will not be dealt, so Fernandez is embracing really his only basketball option and that's to suck it up and play his best for Portland. I guess he gets that now. And therefore, he's kindly asking for his $50,000 back.