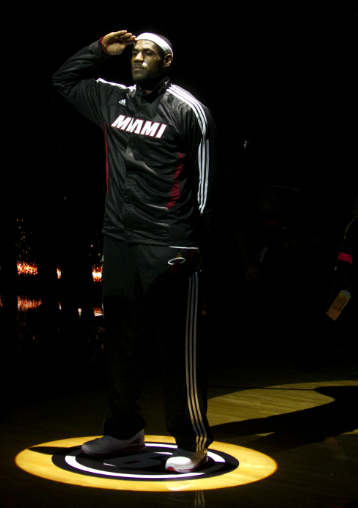 Posted by Royce Young
LeBron has been thinking about his decision and The Decision some for sure. I think his new Nike commercial that caused so much chatter was a pretty good indication of that. He's aware of the criticism he's taken and he knows a lot of that has come as a result of his one-hour special to announce where he was playing basketball.
And now, he says he probably would've gone about the highly controversial choice a little differently. He has no regrets about his decision to take his talents to Miami, but maybe he does about The Decision.
As told to ESPN.com's Michael Wallace:
"If I had to go back on it, I probably would do it a little bit different," James said. "But I'm happy with the decision I made. There's always going to be a misunderstanding. I don't know what I would [have done], but I definitely would have changed it."

LeBron didn't elaborate on what specifically he'd have done differently. Maybe it was the setup. Maybe it was the words he used (take my talents to...). Maybe it was how he kept EVERYONE in the dark, including his former team. Who knows, because LeBron wasn't saying. He was just admitting maybe it wasn't the best thing ever, like he probably thought it was at the time.
Wallace says in his story that LeBron went on to joke about it not being too soon for teams to start recruiting him for the 2015-16 season after this current deal expires. I'm sure a lot of people won't fine that very funny.
When this current contract is up, LeBron will still be in his prime. He's 25 now and when this six-year deal is up will be just 31. And he has some contract clauses that could allow him to enter the market a year or two earlier. So certainly he'll have another chance at making a big free agent splash.
"I'll be 30, I'll be alright still, too," James said before the Heat played the Nets at the Prudential Center. "I'm here. I'm a Heat, man. So we'll see what happens."

It's kind of hard to believe LeBron is already thinking about his next move. Yes, he's with Miami now, but is the reason he's already thinking about how he'd have done The Decision differently is so that The Decision: Part Two will be better? Who knows. But if you're asking us what you should do LeBron, in five years I'd recommend going a different route.