The Miami Heat are reportedly interested in trading for a point guard before this year's trade deadline. Posted by Ben Golliver.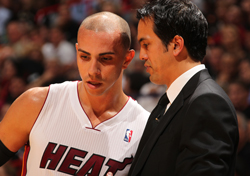 There aren't many question marks on the Miami Heat these days, not with perennial all stars
Dwyane Wade
,
LeBron James
and
Chris Bosh
in the starting lineup. But the point guard position does seem to be of some concern when assessing Miami's ability to win a title this season. Heat coach Erik Spoelstra has named
Carlos Arroyo
the starting point guard, and while Arroyo has looked fine during the Heat's 3-1 start, he's being judged against the high standard set by Boston's
Rajon Rondo
and Orlando's
Jameer Nelson
, the two teams Miami that will stand between Miami and the NBA Finals. Adding to the fact that Arroyo doesn't possess top end talent, questions are circling about his backup,
Mario Chalmers
. Spoelstra recently told Ira Winderman of the
Sun-Sentinel
that
Chalmers would not be a part of the Heat's regular rotation for the time being
.
When it comes to point guards, Erik Spoelstra's focus is singular. The Miami Heat coach said Sunday that he likely will utilize only one per game for the foreseeable future.
For now, that has Carlos Arroyo in the starting lineup and Mario Chalmers on the outs. Otherwise, Spoelstra said he would turn to LeBron James and Dwyane Wade as his primary ballhandlers.
"I'm only playing one point guard now," Spoelstra said before Sunday's game against the New Jersey Nets at the Prudential Center. "And that is Carlos. And I'm divvying up the rest of the minutes between LeBron and Dwyane with our shooters."
ESPN's Ric Bucher proposes
one solution: trade Chalmers and change prior to this season's trade deadline for an upgrade at the point guard position, thereby solidifying the positional depth and potentially finding a replacement at starter for Arroyo.
From Bucher: "Two different team executives said they expect the Heat to dangle $3 million and second-year PG Mario Chalmers to a lottery-bound team looking to shed the long-term contract of a mid-priced spot-up shooting PG. Riley's objective is to find another shooter to space the floor, a la BJ Armstrong or John Paxson in their Chicago days playing alongside Michael Jordan and Scottie Pippen." Bucher lists Toronto's Jarrett Jack and Cleveland's Daniel Gibson as potential targets.
The
Raptors
could be open to moving one of their point guards, as there aren't sufficient minutes for both Jack and
Jose Calderon
. But Jack seems the better fit for the new-look Raptors, who are building for the future around young athletes like
DeMar DeRozan
and
Ed Davis
. If he was available, though, Jack, who was college roommates with Bosh at Georgia Tech, would be a solid upgrade over Arroyo for the Heat and he possesses the size and quickness to make both Rondo and Nelson work. He isn't a pure knockdown shooter in the Paxson mold, however. Gibson better fits the space-clearing spot-up shooter role, but his overall game isn't nearly what Arroyo's is, so he would simply be a marginal improvement over Chalmers. Gibson does have the added benefit of familiarity with James during their time together in Cleveland, but that relationship isn't going to stop Rondo in crunch time. Surely, the Heat will have other options come trade deadline season. Miami could well discover that once wing
Mike Miller
returns healthy the need for shooting from the point guard position isn't as severe. That could make Jack, or a Jack-like point guard with size and quickness on the defensive end, the right fit.