After six weeks playing for the Minnesota Timberwolves, forward Michael Beasley is singing a different tune. Posted by Ben Golliver.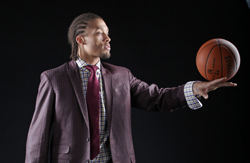 Don't get it twisted: no one will mistake Michael Beasley for a bastion of reliability. But, back in September, when the new Minnesota Timberwolves forward, brought over in a trade with the Miami
Heat
, was just starting to get acclimated in his new city and new team, Beasley's optimism was at an all-time high. In
an interview with Timberwolves.com writer Jonah Ballow
, Beasley was asked if his former team, now loaded with
LeBron James
,
Dwyane Wade
and
Chris Bosh
, was the team to beat in the NBA.
"Honestly, and I know a lot of people are not going to like that fact that I'm going to say this but I think we are the team to beat. You know, that's just me and my ego speaking. I think the Lakers are the defending champs two years in a row, I think the Lakers still hold that title. It's nice to see somebody try to fight back but as of now, the Lakers are still the team to beat."
That's right, Beasley said the Timberwolves -- a team that was coming off a 15-win season last year, a team that hasn't broken .500 since 2004-2005 -- were the "team to beat." A team whose president, David Kahn, thinks useless center
Darko Milicic
is "manna from heaven" and who was fined for telling a radio station that Beasley had a problem with marijuana in Miami, but it was behind him now. The team whose coach, Kurt Rambis, runs the triangle offense without most of the necessary pieces to make it work. It goes without saying that Beasley's boldly optimistic prediction elicited plenty of laughter and wisecracks of the "Let's see what he says in December" variety. Well, Beasley didn't even make it all the way through October.
Ray Richardson of the Pioneer Press reports
that Rambis is already questioning his team's professionalism, just three games into the season. Richardson notes that "the word 'Professional' was written in large letters on a chalkboard inside the Timberwolves' locker room Saturday night" after a 20-point loss to the Memphis
Grizzlies
on Saturday night. As for Beasley, who enjoyed a fair bit of winning at Kansas State and in Miami, the transition to the basement sounds a bit rocky.
"I feel like everything we've been working on since training camp went out the window tonight," Beasley said. "As of right now, we're the worst team in the NBA."
Beasley was so disturbed with the results that he sat in front of his locker stall staring at the floor with his uniform on. He was the last player still in uniform, but he had a reason. Beasley was preparing to go back onto the court to do some extra shooting.
In case you are keeping score at home, it took just six weeks for Beasley's assessment of the Timberwolves to plummet from "team to beat" to "worst team in the NBA." That's got to be some kind of record.