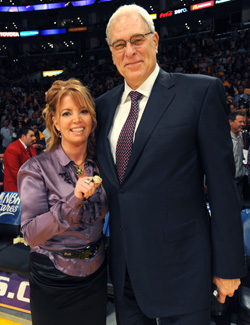 Daughter of Lakers owner, vice president of business operations and girlfriend of Phil Jackson says Hall of Fame coach likely not returning after this season.
Posted by Matt Moore
Getting Phil Jackson back for this season was not a given for the Lakers. Jackson took a good long time before making the decision everyone assumed he was. Who leaves with 11, and not 12? Who leaves with three three-peats, not four? Who lets
Kobe Bryant
go for six to tie Jordan without him? But still, Jackson wandered the Montana countryside for a long time before finally committing to coming back.
And from the indications from his girlfriend and daughter of Lakers owner Jerry Buss, as well as vice president of business operations for the Lakers Jeanie Buss, this is "more than likely" it for the Hall of Fame coach.
From ESPNLA
:
"I think it's really important to him to let these guys know that more than likely, he will not be back. It's weird how history repeats itself, but he left the Bulls as the league went into a labor dispute. Maybe that's part of it. The urgency is this year. Don't think we have time to win any more championships [together]. This is really the last one," Buss said to ESPNLA.com's Brian and Andy Kamenetzky on Thursday.
Jackson being in his last year can't be a surprise, and many assumed that was the case regardless. After all, winning 12 titles between two franchises, getting Kobe to match Jordan's jewelry, putting the nice round stamp on his career, what more could he want? It also means that you can bet LA's focus will be there. The Lakers have looked fantastic early on in their 3-0 start, not showing an ounce of rust. While they'll undoubtedly put the cruise control on as the season goes along, they clearly understand what this season means for this construction of the team, for Bryant, and for Jackson.
This is their biggest season, and this statement from Buss only underlines it.