Posted by Royce Young
In a sport where the regular season is six months long with 82 games packed in between, it's hard to really draw any meaningful conclusions from the opening week of the season. Some fans are panicking, some are filled with unbridled optimism and some are feeling more of the same after spending September convincing themselves, "No, I really think
Thaddeus Young
can be an All-Star and if so, who knows?"
So despite the fact that roughly only three percent of the season has been played, let's look at five, of what could be 500, things we've learned this far.
The Hornets might be kind of good.
Chris Paul
, remember that guy? He's pretty good. And his team, the Hornets? They might be too.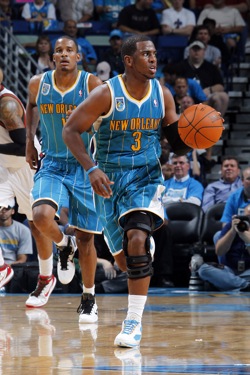 They're 3-0, with one of those wins coming on the road against the
Spurs
. They beat San Antonio, Milwaukee and Denver, three quality opponents that all were in the playoffs last season. They've yet to allow 100 points and are doing an outstanding job of sharing the ball and getting scoring from multiple spots.
With Paul back running the show and new additions
Trevor Ariza
and Marco Belinelli doing their parts to fill in some scoring, this team could be potentially dangerous. There's not a ton of depth there so if Paul or someone else goes out for an extended period, times get get tougher, but as of now, the 3-0 Hornets look fairly legit.
What makes the Heat scary isn't what you think it is.
Teaming
LeBron James
,
Dwyane Wade
and
Chris Bosh
together likely makes opposing coaches think, "How in the
bleep
are we going to stop those guys?"
And while that's still true, the real question might should be, 'How in the
bleep
are we going to score on those guys?"
Nothing has been more impressive about the Heat thus far than their defense. Toss out any cliche NBA word and it works to describe it. Stifling. Swarming. Stingy. Scoring on the Heat right now is harder than scoring on San Francisco Giants. They can guard every position and their apparent weakness hasn't been exposed at all, even against the league's best big man in
Dwight Howard
.
The Heat lead the league in defensive efficiency, giving up just 86.6 points per 100 hundred possessions. That's
outstanding.
Miami will be tough to beat throughout because of the matchup issues it creates, but what could make them a true title contender is the fact they don't let you score.
The Clippers are probably the Clippers again
. In the opener against the Blazers, for three quarters there was legitimate reason for excitement in Clipperland.
Blake Griffin
looked fantastic,
Eric Gordon
was scoring and the team has some actual energy and excitement about it.
But as often happens with Clipper seasons, it could be over after that first game. There was some buzz surrounding this team as a potential dark horse in the West, but Sunday's game against the
Mavericks
really pointed out some serious issues.
The Clippers had no idea what to do offensively. There was no scheme or plan. It was all pointing, talking and bumping into each other. Whoever was running point was basically trying to draw a play from the top of the key as the 24 second clock ticked away. Griffin appeared to be a little frustrated, specifically in the fact that nobody seemed to be playing as hard as him.
It's early and the Clippers have enough talent win some games, but the first impression has been more of the same.
For some reason, Kurt Rambis just doesn't like Kevin Love
. After three games, Kevin Love is fifth in the NBA with 13.0 rebounds per game. He's averaging 14 points per game. But here's the problem: He's averaging just 25.3 minutes per game.
Extend Love's current stats out to a per 40 minute average and he's putting up 22.1 ppg and 20.5 rpg. And yet, he continues to get bench minutes in what's now, a starter's role.
It's not like the Wolves are winning and Love is just fitting in. Right now, Minnesota is 1-2 and has struggled scoring (something Love does well). They are however the best rebounding team in the league with a plus-12.7 differential. Imagine how good they'd be if their best rebounder saw over 30 minutes a game?
The Kevin Love situation is honestly one of the most fascinating storylines in the league this season to me. He's Minnesota's best player, best scorer and best rebounder, yet he doesn't get as many minutes as
Wayne Ellington
,
Michael Beasley
or
Luke Ridnour
.
Now in Rambis' defense, nobody on the team averages more than 30 minutes per game and most everyone hovers under 25 minutes per. So maybe it's an institutional thing. But then again, maybe that's a good explanation as to why they haven't been successful thus far. Common sense says play your best players the most minutes. But the Wolves are just preaching transparency and honesty, not common sense.
Nobody knows if Houston is good or just average yet.
In the
Rockets
' opening game against the
Lakers
, they held a lead for the majority of the night before the defending champs turned it on and won behind late heroics from
Shannon Brown
. But most agreed - the Rockets will be good.
Then they lost their next two games to the
Warriors
and the
Nuggets
which left some scratching their heads. So are the Rockets good, average or possibly bad?
I think you can certainly take out bad because this Houston club has players and will win. But is it a top four team in the West? Maybe not. Really, are they a playoff team? That's potentially up in the air as the last two games really showcased some major defensive problems Houston has right now.
This upcoming set of games could put the Rockets in a big hole early if they don't get their act together though. After playing the Hornets at home, Houston goes on the road for six of their next eight.