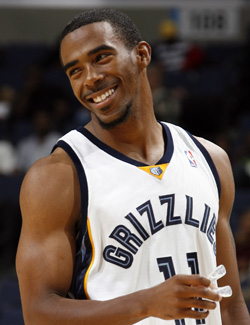 Grizzlies point guard granted 5-year, $45-million extension for mediocrity, continued inconsistency.Posted by Matt Moore

In the long history of terrible moves by the Memphis Grizzlies, mark my words, this one will reign supreme.
Worse than drafting
Hasheem Thabeet
.
Worse than trading
Pau Gasol
for
Marc Gasol
,
Kwame Brown
, and cash.
Worse than re-signing
Rudy Gay
for $80 million.
This, this right here, is not just the worst move in the history of the Grizzlies, but it is the shining golden cap on the mountain of terrible moves made by NBA owners over the past 2 years. It is this, exact move, that nullifies any argument the owners can possibly make that they spend their money responsibly inside the current CBA. It is this contract that overshadows
Joe Johnson
's contract,
Amir Johnson
's contract,
Darko Milicic
's contract as the single worst contract handed out in 2010.
ESPN's Chris Broussard
and the
Memphis Commercial-Appeal reports
that the Memphis Grizzlies have agreed to a 5-year, $40-million-plus extension for
Mike Conley
.
There is really nothing more to say. But here's something anyway.
Mike Conley is the worst starting point guard in the NBA. That's including
Derek Fisher
, who is at this point both a defensive signpost and a superior point guard. People often wonder why it is I consider this to be so. The reasons are numerous. It's not that Mike Conley is not a good basketball player. He is. He's a career 44% shooter, and 38% from the arc, which isn't bad at all. As a spot-up back-up combo guard, he wouldn't be bad at all. Mike Conley is not a
bad
NBA player. But there are three things this contract supposes that he is not. He is not a starting caliber point guard. He is not worth $45 million dollars over 5 years. And he is not worth the longterm damage this contract does to the Memphis Grizzlies franchise.
Conley's biggest problems involve things which are extremely hard to identify in the box score. His turnover margin is acceptable, if not stellar. He was 24th in the league last year in assist rate among point guards who played 25 minutes or more. That's not good, at all, but it's not horrific. But if you watched as many Grizzlies games as I have, you'd know certain things. Like, for instance, his dribble probe ability.
Every point guard in the National Basketball Association is able to probe the defense. It involves stepping inside the arc, towards defenders, and maintaining your dribble to see how the defense reacts to penetration. It allows the point guard to evaluate spacing and set up the correct set of decisions. Mike Conley cannot. He will routinely turn his back to a post maneuver, just to avoid losing the ball. This is because he has tremendous difficulty in splitting defenders. This is just one example. He struggles in the pick and roll according to Synergy Sports, averaging just a .79 PPP in the pick and roll and shooting 44% which is a great Field Goal %, but not in pick and roll. Defensively? It's even worse.
Conley surrenders a .96 PPP in Isolation, giving up free throws over 16% of the time. In pick and roll, a .82. It's not horrific. It's just miserably average-to-subpar. This at the most important position on the floor. Bear in mind that Conley plays in a high-octane, weapon-loaded offense that allows him to get out in transition and get easy buckets. Yet he turned the ball over in transition 16.7% of the time.
Advanced stats don't look much better. Conley has never posted a +15 PER, the benchmark of an average player in the league. Conley is only 23, but it would require a monumental improvement in several categories for him to reach the point of actually deserving this kind of contract.
As a comparison?
Rajon Rondo
makes only $10 million more for his extension than Mike Conley. Rajon Rondo. The guy that just dropped 24 assists in one game for a title contender. That guy makes $2 million more per year, that's it.
But the real problem with this contract?
The damage it does to the future.
Alongside Conley, the Grizzlies needed to extend Marc Gasol, the only real asset they acquired in the Pau Gasol trade. Marc Gasol is arguably the most important player on the team. He is an excellent passer out of both the high and low post. He has a reliable mid-range jumper, is tremendous on the offensive glass, and works his face off on the defensive end. He shows hard and recovers on the pick and roll, maintains low-post position and is active, and continually makes hustle plays. This in a league that is painfully thin on centers. And the Grizzlies have just opened the door for Gasol to walk away in restricted free agency.
Zach Randolph
has to be re-signed after his contract expires this year, and given the affection the Grizzlies organization has shown Randolph, there's no sign they won't overpay for Z-Bo as well. Which would mean making room for Marc Gasol would be incredibly difficult.
Then next season, you have
O.J. Mayo
in a similar boat. Looking for an extension. But after the owners' hardline CBA renegotiations get through, how much cap space will they have left? Plus they'll have Hasheem Thabeet coming up soon and a need to justify their drafting of him by waiting for him to develop over the next decade.
So what you're looking at with this extension is the rare combination of a move that's bad in and of itself, and mortgages your ability to win later by most likely expending two of your three best players. You now have $120 million committed to Rudy Gay and Mike Conley over the next six years. That's bad enough, but you'll most likely be losing better players in order to form around that core. It damages you in the short term. This is a player who you have tried to improve upon with Jamal Tinsley, moving O.J. Mayo to point,
Greivis Vasquez
, Allen Iverson, and I'm pretty sure a clone of John Stockton. But this is the player you have chosen to give $40 million-plus to.
The owners have held the high ground in negotiations regarding the CBA. Even with moves like Darko, Johnson, and the stellar history of Isiah Thomas, the ownership has been able to justify the moves they've made. But this is more damaging than others. This is a clearly B-Level player getting close to $9 million a year.
The
Commercial-Appeal
reports the decision was largely made upon Conley's strong start to this season. Three games. In a contract year. Featuring a game against the Minnesota
Timberwolves
. This, apparently, is what sets the market in Memphis.
When Ken Berger reported last month that the NBA was considering contraction as a possible solution to its economic woes, I spoke out passionately against it. Small-market fans shouldn't be punished and the overall health of the league nationwide shouldn't be harmed in an attempt by larger market teams to make life easier on them. But after this deal, the question must be raised. Would the Grizzlies be better off if they were simply erased from existence? Is a fan base better off existing in a constant and continual cycle of disappointment and failure, or simply not existing at all?
Mike Conley made $45 million without a single impressive season. And the bizarre, cruel, laughable reign of Michael Heisley continues.