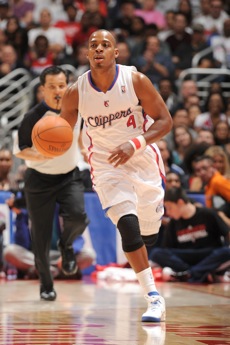 Posted by Royce Young
Per ESPN Los Angeles , backup Clippers point guard Randy Foye will be out one to two weeks with a strained left hamstring. This comes after starter Baron Davis is listed as day-to-day with a knee injury, who missed Monday's game against the Spurs because of it.
Because of the injuries, rookie Eric Bledsoe got the starting nod. And he actually didn't fare too badly in his first NBA start. In 40 minutes, he had nine points, three assists, five rebounds and four steals.
Bledsoe ended up playing a lot off the ball with Eric Gordon assuming the point guarding duties for most of the night. Gordon compiled a career-high 11 assists against the Spurs to go along with 23 points (and two massive dunks).
Foye has played in two games so far, averaging six points and three assists in 24 minutes a game.
For the Clippers though, this is not great news. Some felt they could be a surprise playoff contender in the West but even at full strength they got off to a slow start. Now a couple injuries have hit and they could be digging themselves into a bit of a hole before the season even gets going. Vinny Del Negro will have to do some shuffling and hope that between Gordon and Bledsoe, the team can play somewhat coherently on the offensive end.
Though if Monday's game against the Spurs was any indication, there might be some rough stretches. And next up for the Clips is a game against the
Thunder
, one of the league best defensive teams that hasn't performed well on that end thus far and will be looking to make a statement.