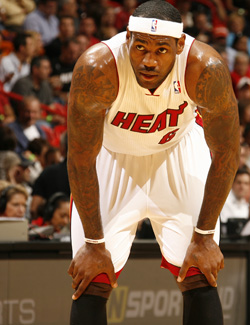 Heat superstar has slight injury, fails to notch rebound in win over Wolves. Posted by Matt Moore
.
Last season,
LeBron James
suggested we take him for granted. It speaks to that same mindset that on a night where he pulled in no rebounds, we're at kind of a loss. The last time he did that in the regular season? March
of his rookie season against Utah
. The quirky boxscore isn't so quirky in context; the
Timberwolves
only
have rebounders and the Heat cruised to another easy win. No need for James to fill up the box with boards. But it's still notable that it's been that long since someone kept him off the glass completely. It's not that hard for an NBA player to get a single rebound, but even with as many of the minutes as James plays, he's still the focus of attention on the floor and hasn't been held without a board in six years. Not bad.
As far as the cause, Brian Windhorst of
ESPN reports that James suffered a leg injury
against the
Nets
last weekend and it's lingering. It's supposedly minor, but then again, the elbow was supposed to be the same deal. That may have caused his hops to be less than optimium. It's not a big injury, and he's not expected to miss time. We'll keep you updated on his status.
HT:
@nbaisland
.