John Wall dances during introductions, gets his first win as a pro and nearly notches a triple-double, Rajon Rondo does something that hasn't been done in more than three years, Cartier Martin goes hero status, and a bunch more. Posted by Ben Golliver.
Each game is made up of elements which help formulate the outcome. Monday through Friday, we'll bring you the elements from the night before's games in our own specialized version of the game recaps. It's not everything that happened, but it's an insight into what lead to the results you'll see in the box scores. This is the Game Changer.
THE BIG ONE: WASHINGTON STEALS ONE AT HOME
In a night that was otherwise filled with double-digit victories around the NBA, the Washington
Wizards
staged one heck of a comeback to steal a 116-115 win at home against the Philadelphia
76ers
. The Wizards, who blew a lead earlier in the fourth quarter, started fouling repeatedly in the last minute of regulation to extend the game. Up three in the game's closing seconds, Philadelphia elected not to foul, and Washington used a side inbounds play to set up a top of the arc 3-point attempt for forward Cartier Martin, who appeared to be the third option on the play. Whether he was meant to take the shot or not, Martin, who has attempted just 86 3-pointers in his 53 game NBA career, buried an off-balance, lean-in attempt in front of 76ers forward
Andre Iguodala
. He then joined a group hug celebration in front of the Wizards bench, before they all realized they still had to play five minutes of extra time. In the tightly-contested overtime period, Wizards rookie point guard John Wall was the difference, scoring four points, dishing out an assist to
Andray Blatche
and making two key defensive plays during the extra period, on his way to an eye-popping stat line:
29 points, 13 assists and 9 steals (which tied a franchise record)
. But it was Blatche who provided the winning margin in a 116-115 come-from-behind victory, hitting a pair of clutch free throws with seven seconds left.
The Sixers really stumbled down the stretch with some sloppy late-game execution.
Jrue Holiday
was the biggest culprit, finishing with six turnovers on the night, but multiple times in the closing minutes, they struggled to inbounds or outlet the ball in the backcourt under full court Wizards pressure. With the ball and seven seconds left on the block in overtime, the Sixers could only manage a difficult, contested, off-balance jumper for Iguodala. If not for yeoman's work from
Lou Williams
at the free throw line (15-17), it would have looked even worse. Philadelphia stays winless on the season and this one undoubtedly stings the worst, given the circumstances.
Kate Fagan of Philly.com sums it up nicely
in her discussion of Martin's game-winner...
It seems swingman Andre Iguodala gets caught for a second on the screen set to free Martin. Iguodala trails Martin -- as he's supposed to -- but he's too far behind to keep Martin from catching at the three-point line, and Iguodala is just not in a good position to take a good foul on Martin. There's no lack of effort from Iguodala (in watching the replays), it just seems like the kind of play that continually haunts the Sixers.
And so they remain winless.
Philly joins the Detroit
Pistons
and the Los Angeles
Clippers
as the only 0-4 teams in the NBA, and the bad news gets worse. After the late Tuesday loss, Philly must return home for a rematch with the Indiana
Pacers
on Wednesday night. While Philly is playing the away-and-home back-to-back, the Pacers have enjoyed two days off since defeating the Sixers in Indiana on Saturday.
GO-GO-GADGET LINE OF THE NIGHT:
Rajon Rondo:
9 points, 3 rebounds, 17 assists, 4 steals, 0 turnovers on 3-7 shooting in 36 minutes.
According to Basketball-Reference.com
, the last time an NBA player had 17 or more assists and 0 turnovers in a regular season game was April 14, 2007. The man who did it?
Steve Nash
, point guard for the Phoenix
Suns
.
Honorable Mention goes to...
John Wall:
29 points, 2 rebounds, 13 assists, 9 steals and 8 turnovers in 45 minutes on 9-16 shooting.
Wall was just one steal shy of a triple-double in his third game as a pro. Michael Lee of the Washington Post notes on Twitter that "is just the second player in NBA history to get at least 70 points & 30 assists in his first 3 games. The other? Oscar Robertson."
YOU SHOULD KNOW:
After losing to the Celtics in their opening game, the Heat have now won nine straight halves of basketball. Last night, they blew out Minnesota 129-97.
DON'T MISS:
The
Knicks
and the
Magic
were scheduled to play Tuesday night at Madison Square Garden, but
asbestos intervened
. Surely Knicks center Eddy Curry can be blamed for this somehow. In way less sketchy news, Los Angeles
Lakers
guard
Kobe Bryant
is
in for the 2012 Olympics in London
. Also, Miami won big again, thanks to
20 points and 12 dimes
from
LeBron James
, who was
reportedly playing through a minor leg injury.
WHIMSY:
Washington Wizards point guard John Wall reacts with glee as the Wizards win their home opener in overtime at the Verizon Center on Tuesday night. Wall was huge, nearly notching a triple double, and his night began with care-free exuberance too:
he danced "The Dougie" during his pre-game introduction
.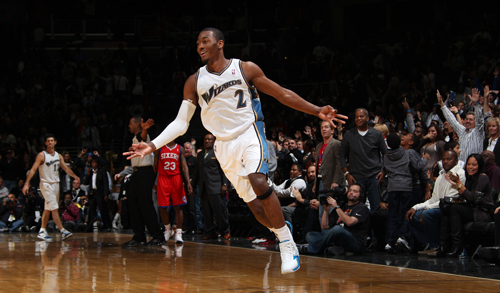 HERO OF THE NIGHT:

No single play led to Wall's joyous reaction more than a last-second 3-point shot by Wizards forward Cartier Martin, who leaned in on 76ers forward Andre Iguodala before burying the trey to force the game into overtime.
Mike Prada notes over at BulletsForever.com
that the heroics are a new thing for Martin, who was surprised to learn the media wanted to get his post-game reaction to burying the triple.
ONE FINAL THOUGHT:
As of 2 a.m. Eastern Wednesday morning, former Cleveland Cavalier, New Jersey Net, Phoenix Sun, New York Knick and Portland Trail Blazer center Chris Dudley, he of the 45.8% career free throw percentage, was in
a dead heat
in his Oregon gubernatorial bid. Dudley is running as a Republican, facing Democrat John Kitzhaber, who has served as Oregon's governor twice previously.
Follow F&R on Twitter at @CBSSportsNBA and check out our RSS feed . This has been your daily edition of the Game Changer.