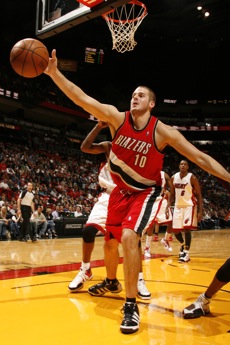 Posted by Royce Young
The Blazers will be getting their talented big man back Nov. 26. No, not that one. I'm talking about the other one. No, not Jeff Pendergraph. The other one.
Joel Przybilla
.
Jason Quick of The Oregonian reports
the Blazers are targeting a home game against the
Hornets
on Nov. 26 as Przybilla's return date.
Przybilla ruptured his right patella tendon at Dallas on Dec. 22, 2009 and had surgery two days later. He re-reruptured the same knee in March when he slipped in the shower, requiring a second surgery on March 8. He returned to practice Oct. 10 and intended to play in the team's opener Oct. 26, but coach Nate McMillan felt he was still a little tentative with the knee.
Much in the Blazer way though, they're making due pretty well without Oden, Pendergraph or Przybilla. Portland is 4-1 with
Marcus Camby
as the only healthy center on the roster. Nate McMillan has done a terrific job of mixing lineups and moving players around. Camby at 36 years old is just seeing 27 minutes a game, but with
LaMarcus Aldridge
filling in at the 5,
Fabricio Oberto
helping and even with some small-ball lineups, the Blazers are making due.
They aren't necessarily a strong rebounding team at the moment, but they're holding their own. The Blazers are right in the middle of the league in rebounding and have a plus-3.2 differential.
So once Portland starts getting healthy, its only going to get better.
Greg Oden
doesn't have a timetable set yet, but the Blazers can plan on getting Przybilla back soon.