Posted by Royce Young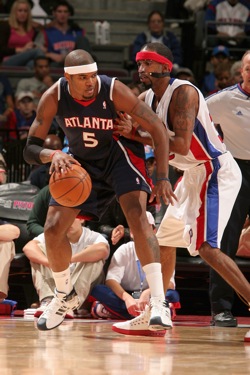 A report came out earlier in the week
saying because of
Al Horford
's extension, the
Hawks
might not be able to keep
Josh Smith
and therefore, might be open to trading him.
And according to Vince Ellis of the Detroit Free Press,
the
Pistons
might just be interested. (If not in Smith, then potentially
Chris Kaman
too.) Ellis says that once the Pistons sale goes official, they will strongly consider a
Richard Hamilton
for Josh Smith swap.
(Record scratch.)
Wait, what? Hamilton for Smith... straight up? I'm not saying Richard Hamilton isn't a fine basketball player - because he is - but we're talking about Josh Smith here. Sure, Hamilton has a contract that's somewhat attractive ($12.5 million expiring in 2013) but it's not like it's the best thing ever. Hamilton is 32, has been in the league 11 years and his averages are taking a big dip (he's putting up 10.7 ppg this year). Smith, is a rare talent that's just 24 years old and potentially hasn't scraped his ceiling yet.
So yeah Joe Dumars, I guess I can understand why you'd "seriously consider" trading Richard Hamilton for Josh Smith. Here are a few more good trade ideas Dumars is seriously considering:
Season 4 of "Sister Sister" for Season 4 of "The Wire"
The 2004 NBA title for a fully-loaded baked potato
If Dumars is able to pull something like that off, I will absolutely retract all of these lame jokes and give it up to him. But as of right now, someone saying they'd "seriously consider" trading Hamilton for Josh Smith is kind of like me saying I'll trade you this $5 for your $20. Doesn't really compute.