Boston Celtics forward Kevin Garnett gives his side of the cancer trash-talk controversy with Detroit Pistons forward Charlie Villanueva in a team-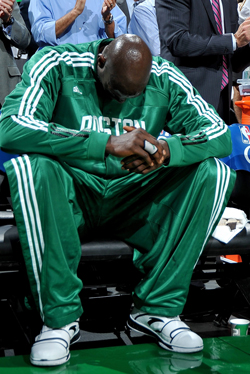 issued statement. Posted by Ben Golliver.
Another hour, another wrinkle to the ongoing cancer trash talk war of words between Detroit Pistons forward Charlie Villanueva vs. Boston Celtics forward Kevin Garnett. Late last night, Villanueva
took to Twitter
to tell the world that Garnett had called him a "cancer patient" during Tuesday's game between the Pistons and Celtics. Villanueva suffers from alopecia universalis, a skin disease that leaves the body hairless. This morning, Denver
Nuggets
coach George Karl, himself a recent cancer patient,
weighed in
, saying that Garnett's statement crossed the line, even in the heated world of the competitive NBA. This afternoon,
we have word from Ken Berger of CBSSports.com
that Garnett is denying calling Villanueva a "cancer patient" in a statement released by the Celtics. The statement reads in part...
"I am aware there was a major miscommunication regarding something I said on the court last night," Garnett said in a statement from his representatives released by the Celtics. "My comment to Charlie Villanueva was in fact, 'You are cancerous to your team and our league.' I would never be insensitive to the brave struggle that cancer patients endure. I have lost loved ones to this deadly disease and have a family member currently undergoing treatment. I would never say anything that distasteful. The game of life is far bigger than the game of basketball."
So Garnett wants the world to understand that he insulted Villanueva not by calling him a victim of cancer, but by calling him cancer itself. "You're not stricken by a deadly disease, my enemy. You
are
the deadly disease!" If that's not trying to parse oneself out of a politically incorrect statement after the fact, I don't know what is. Kudos where they are due for Garnett extending an olive branch to those struggling with cancer. Obviously missing from the statement, though, is any kind of an apology, either a direct one to Villanueva for his statements or an indirect one that acknowledges responsibility for what he admits was a "major miscommunication." If we read between the lines, Garnett is therefore letting us know that he feels he has nothing to be sorry about, and that feels like a conscious decision to undercut the merit of Villanueva's accusations and turn this into a "believe who you want, he said/he said" situation. We're now left with two versions of events: Villanueva's or Garnett's. Garnett either called Villanueva a "cancer patient" or he said "you are cancerous to your team and our league." Unfortunately for Garnett, his track record works against him here. We're supposed to believe a guy that
made his teammate cry on the bench during a game
sounds like a bigger dork than
Evan Turner
when engaged in double-technical trash talk? Hardly.