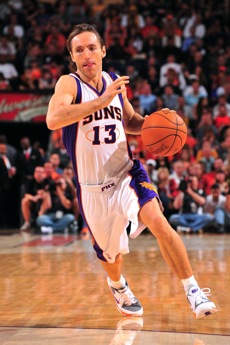 Posted by Royce Young
A story popped up online Wednesday at The Phoenix New Times
that claimed
Steve Nash
was retiring. Not eventually. We know that. That he was retiring now to pursue a political career in Canada.
The story claimed Nash was retiring Nov. 15 and that his long-term goal was to be prime minister of Canada. People believed this. It was a five-page story that was thousands of words. There were quotes, confirmations from Jerry Colangelo, Robert Sarver and Alvin Gentry. There was no hint that it was a joke or no reason for it to be fake.
But don't worry, it was.
CBS 5 News in Phoenix confirmed that the story was a fake
and there was even an official statement on
Suns
.com calling the story humorous.
Via Seth Pollack of SB Nation,
Nash said, "Obviously, I'll be prime minister one day but I was going to wait until after I finish playing basketball." Well played, Prime Minister Nash.
Why the joke? Why the fake article? I have no idea. It makes no sense to me. It seems like it took a lot of effort and honestly, there just doesn't seem to be a reason for it. The Phoenix News Times isn't a site that's prone to making up stuff, but it is an alternative media company that aims to sort of pry and dig. The New Times brand is owned by
Village Voice Media
which has a number of these sites planted through the country. They've actually won awards for writing and investigative pieces. But I don't think this is going to help their credibility a ton.
I assume there was some kind of satirical effort behind this story, like it was trying to make a point about LeBron's move to Miami or
Amar'e Stoudemire
leaving. But to run it with fake quotes and in a way like it's actually happening is weird. And it was even a cover story!
Kind of a fun story though. I can totally picture Steve Nash giving his home country an assist and taking control of the government. I'm sure he'd be quite the leader. But that'll have to wait for a bit. Don't believe everything you read, kids. Except this stuff. This stuff is all good.