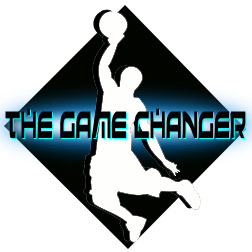 Posted by Matt Moore
Each game is made up of elements which help formulate the outcome. Monday through Friday, we'll bring you the elements from the night before's games in our own specialized version of the game recaps. It's not everything that happened, but it's an insight into what lead to the results you'll see in the box scores. This is
the Game Changer
.
THE BIG ONE: DIRK AND COMPANY GET IT DONE AGAINST DENVER
The trap we often fall into when evaluating great performances is that somehow, the defense was useless. That they were pathetically overmatched by the greatness we just witnessed. But in truth, it's often a great performance in the face of great defense. Great players hit tough shots and figure out a way to get it done. And that's what
Dirk Nowitzki
did against a surprisingly good defensive approach from the
Nuggets
. Rookie
Gary Forbes
and
Al Harrington
did everything they could, had position, got a hand in his face, and Nowitzki just kept working them over with the fadeaway. There were a few times when questionable switches and assignments doomed the Nuggets.
J.R. Smith
trying to defend Dirk? Aaron Afflalo? That's not going to work, kids. He may be "Euro-soft" or whatever (averaging 9.8 rebounds this season), but he's still 7 feet. And he took advantage of it.
But the Nuggets hung around, getting good perimeter contributions, and had a shot to win it with time expiring. Their offensive set of choice? Contested jumper for Carmelo in ISO. Clang. Ballgame. Don't get me wrong, Carmelo's a fantastic clutch scorer. But not even a post possession or a pick and roll or anything? Just, here, try and nail it over your guy, Melo? And that's why Dallas usually finishes with a better record than Denver.
GO-GO-GADGET LINES:
Kobe Bryant:
30 points, 10 rebounds, 12 assists, 1 turnover. Took 22 shots to get there, but who cares when he's producing that many points in total?
Monta Ellis:
39 points, 9 rebounds, 8 assists, 3 steals.
Deron Williams:
22 points, 8 rebounds, 14 assists
Dwight Howard:
18 points, 16 rebounds, 8 blocks in 23 minutes.
Tim Duncan:
25 points on 13 shots, 17 rebounds, 2 assists, 3 blocked shots, 6 turnovers
SO RISES A NEW POINT:
Baron Davis
is out because he is out of shape, which surprises no one. But what is surprising is that in last night's win, yet another membe of the Kentucky 5 showed up to make the case for being a legit NBA starter.
Eric Bledsoe
stepped in and dropped 17 points, 8 assists, and 2 blocked shots as the
Clippers
got their first win. The kid's got moxy, we'll give him that. Bledsoe at times elected to take contested 3s with time on the clock. But he also got things going, ran the offense, and was very efficient for a rookie starting. All this and the Clippers blew out the
Thunder
like they weren't even there. It's not a small element if Bledsoe can become the point guard of the future for the Clippers. That makes them a much more complete team and gives them a 1-2-3 punch with Gordon and
Blake Griffin
.
THE Jazz BAND IS BACK ON STAGE:
Things looked bleak for the Jazz as the season started. But in their past two games, they've absolutely annihilated their opponents, as they did to the
Raptors
last night. The Jazz dropped 66 on the Raptors in the first half and that was all she wrote.
Al Jefferson
and
Paul Millsap
, or as I like to call it, Aul Jeffsap, dropped 48 points, 12 rebounds, 7 assists, and a block on the Raptors, on a night where
Andrea Bargnani
was actually rebounding. There were so many questions about how those two would work together, but at least early on, they're monstrous offensively. Jefferson's savvy and poise is offset by Millsap's explosiveness and tenaciousness. The Raptors had no return volley and that was it.
VIDEO-A-GO-GO
WHAT YOU MISSED:
KB says KG
can still make this right
.
Bogut and Garnett got into it
. And
Steve Nash
is not retiring
.
3-BALL, CORNER POCKET:
Richard Jefferson
nailed 4 three-pointers from the corner last night, and had himself a barrage from the arc.
Richard Jefferson hits four 3-pointers in the 4th quarter to beat Suns from 48 Minutes of Hell on Vimeo .
RONDO DO WHAT RONDO DO:
It's overtime. The
Celtics
need a bucket to get some space on the
Bucks
. So the Celtics go to their best option. Let
Rajon Rondo
create.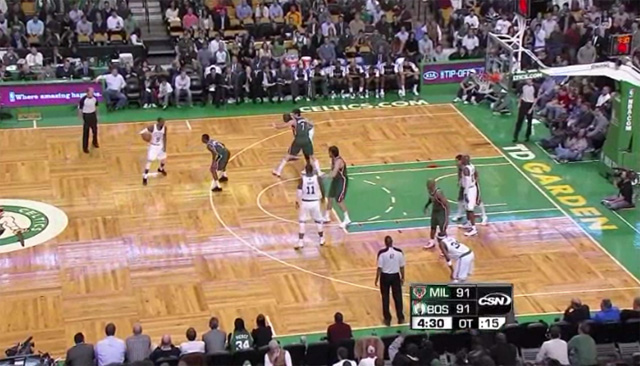 Rondo sets the play and moves to the left wing where KG is moving to set him a pick to clear baseline.
Paul Pierce
has his hands on his knees on the far wing, he's harmless. (HINT: He is not harmless.)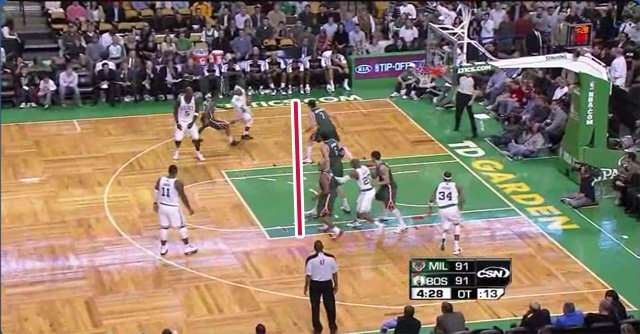 As Rondo comes off the pick, Davis is high, pulling defenders away from the basket.
Ray Allen
sets a pick low, and because it's Ray Allen, the Bucks rightly are concerned with keeping tabs on him. Meanwhile, they're trying to prevent the pick and pop from Garnett at 18 feet which is deadly. So you'll see three Bucks players creating a wall watching that pick and roll. The problem? There's no one behind the play to watch... the Truth, who has come hard off of that wing to the low cut. Rondo is dribble hesitating to pull Ilyasova out and freez him where he wants him.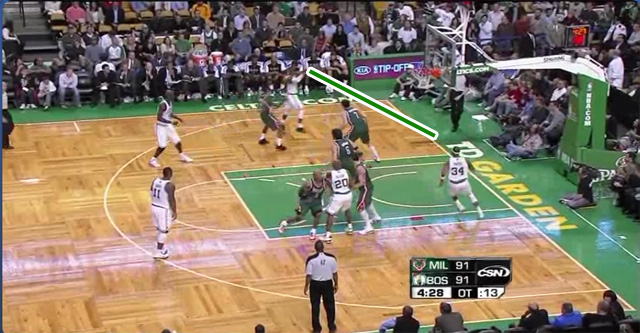 Rondo's got one lane, over the top of the tall Ilyasova, to the bucket, without making Pierce go up too much. Pierce is nto really an alley-oop guy at this point, so Rondo's got to get it where Pierce can grab it and immediately go up to score. He's got a narrow lane, with a defender closing off the pick (and Garnett is
still
open if he want to opt for the pick and pop). Meanwhile, the Bucks have just realized they don't know where Pierce is.
Too late.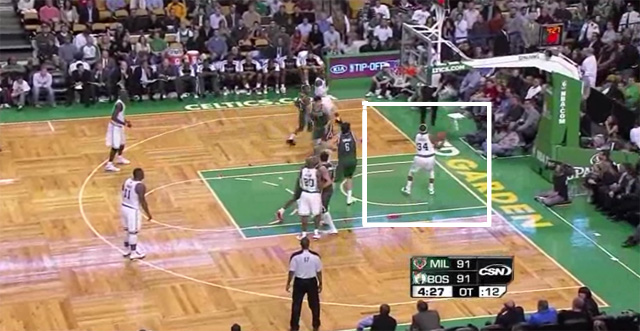 Look at all the space Pierce has when he catches the pass from Rondo. They've managed to create space right under the basket and all they need is a great pass from Rondo. Which he delivers on target.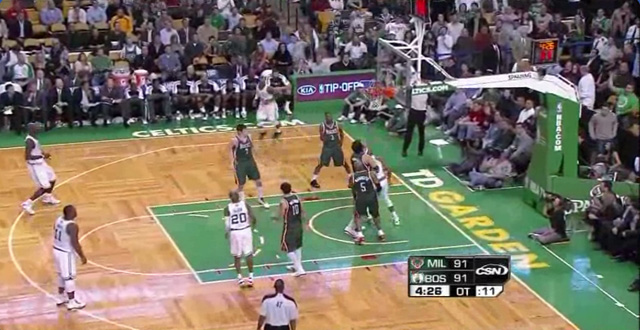 Too easy.
See you tomorrow on the Game Changer.
Follow F&R on Twitter at @CBSSportsNBA and check out our RSS feed . This has been your daily edition of the Game Changer.