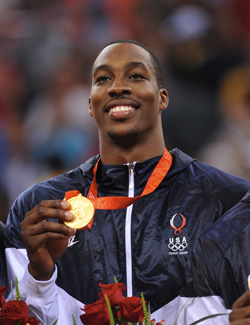 Magic center plans to "probably play" in 2012 Olympics. Posted by Matt Moore
That Team USA won Gold this summer wasn't just your run of the mill lifetime moment of triumph. It was done despite the absence of nearly the entire list of elite talent in the NBA. Most superstars took off from FIBA after giving themselves to Beijing so they could, you know, be NBA superstars over the summer. But there's been solid talk from most of the players about being prepared for London in 2012 and joining the ranks of Team USA once more.
You can count
Dwight Howard
among them.
The
Orlando Sentinel asked Howard
about 2012 and his plans for the Olympics:
"I'll probably play. Of course," Howard said. "It's another chance to represent our country."
Okay, not exactly the lock the
Sentinel
makes it out to be. But with no real reason for him
not
to join his countrymen in Great Britain, Howard should probably be penned in, not penciled. Howard's a huge difference maker, even with the awkward fit for him in international style. Team USA was desperately short on centers this summer, and with Howard so physically dominant, he can lead to mutltiple possessions. And that greatly improves the chances of Team USA going for Gold again.
Of course, he'll have to get along with the
Heat
, more than likely... awkward!