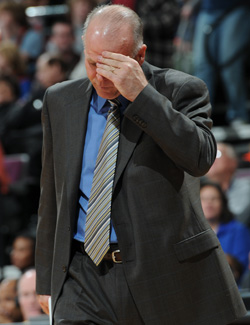 Detroit coach may be on the hot seat. Posted by Matt Moore
It takes a while for coaches to make their mark on their team. Even in the ridiculously knee-jerk NBA, you've got some sort of window for getting your point across and bringing the team together.
That sound you hear is John Kuester's window shutting while somoene behind him packs his bags.
It's not just the 0-5 start. Or the -9.2 scoring differential (third worst in the league). It's not the discomobulation, the wins per dollar amount, the defensive breakdowns, or the lack of cohesion. It's all of the above and more. The latest example?
Rodney Stuckey
, the promising young point guard of the future who's stock has plummeted like BP the past year,
refusing to acknowledge his coach and getting benched
(Via the
Detroit Free Press
). This after
Tayshaun Prince
responded to Kuester's criticism of the team's leadership by
questioning the same element from the coaching staff
. Yikes.
Here's the thing. Once you lose a locker room? That's pretty much it. Your locker room can stray, it can meander, it can roam the countryside and graze among distant pastures of distraction. But once you've lost it, when it's out of sight? That's usually it. You never get it back. Scott Skiles has lost multiple locker rooms despite being a tremendous coach. Kuester, from all accounts, never seems to have had this one to begin with.
If we're looking at odds for first coach fired before Christmas? Kuester's just run to the top of the list and rung the bell.
The
Pistons
are
on the books for over $65 million
this season, which is just a ridiculously high salary for the kind of production they're seeing. What's even more baffling is their reluctance to move Tayshaun Pirnce or Rip Hamilton. They have young talent they're not investing in, and the veterans are not responding to Kuester's prodding. It's a steamy soup of badness in Detroit, and eventually, Joe Dumars may have to dump the pot out and start over.
(
HT: PBT
)