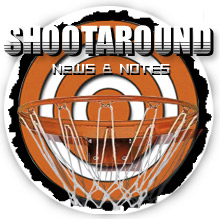 Posted by Matt Moore
The Sonics mascot showed up with a sign that said "Homeless" last night. Which is adorable. I do wonder where the sign is that reads "Homeless because people didn't think it was a good idea to build me a new home" but I'm a stickler for accuracy like that.
Mikael Pietrus and Stan Van Gundy got into a shouting match over Pietrus being yanked in the third quarter against the Wolves. One would think in a 40 point annihilation that everyone would be happy. It's also bizarre that SVG continues to have trouble with Pietrus considering that he's been a big part of the team's success and I don't see any yelling or screaming at Vince Carter, but I'm a stickler for fairness like that.
Twitter has not been kind to the Celtics. Twitter is a remarkably easy interface to control, you just have to be sure to think about what you're posting before you post it. Then, if you do post something that isn't great, you need to be prepared to take responsibility for it. Or blame it on hackers. You know, either one.