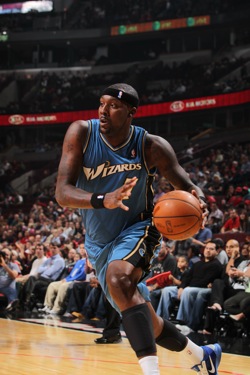 Posted by Royce Young
If you've watch the Washington
Wizards
play so far this year, you've probably noticed a couple of things.
John Wall
is fast. John Wall is good. John Wall can dance.
And maybe one other thing -
Andray Blatche
is looking kind of, well, fat.
Blatche is working himself back into shape after breaking his foot last June and therefore missing some of training camp. People expected big things out of Blatche who was nothing short of brilliant for the Wizards the last few months after Antwan Jamison was traded last season. But so far this year, he's been sort of average - 15.7 points and 5.7 rebounds a game on 35.6 percent shooting.
The issue is, he's out of shape. He knows it and his coach knows it.
"He does not have the same explosiveness that he had last year,"
Coach Flip Saunders told The Washington Post.
"As he continues to get in shape that explosiveness will come."
The battle Blatche is losing is coming against greasy fast food he says. He told The Post that he sometimes has a hard time sleeping at night and rarely gets to sleep before 1:30 a.m. So naturally, he gets the cracving for some snackums. "I eat late, that's how I gain weight," Blatche said.
Because of his exceptional play down the stretch last season, Blatche earned a three-year extension worth $28 million. He knows he has to get it going and knows that a lot of that starts with him getting into better game shape. And it can be tough when your point guard is John Wall and he flies up the court 200 miles per hour.
The Wizards are in rebuilding mode and they placed a lot of trust in the continuing development of Blatche. By all accounts he's a hard worker and a guy that can be counted on. He's incredibly talented and with him, Wall and some of the other young guys on the roster, the Wizards definitely have a future. They've just got to get him out of the pantry after bedtime.