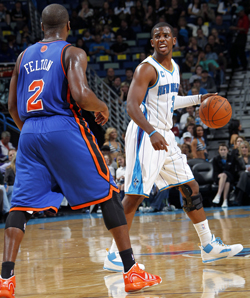 Hornets topple Heat as CP3 shines alongside Okafor. Posted by Matt Moore
Chris Paul
overcame a furious comeback from the Miami Heat, dishing to a wide-open
Trevor Ariza
for the game-clinching three-pointer while
David West
nailed the key free throws to
hold on for a 96-93 win
in New Orleans to push the Hornets to 6-0.
Notes and miscellanea:
First off, the Heat, for reasons beyond comprehension, continue to work with their stars to create wide-open shots for teammates who are not capable of hitting them to the volume they are being asked to. Worse, they continue to force the issue even when said teammates are obviously colder than a polar bear's toenails. James Jones and Eddie House were a combined 2 of 13 from 3-point land, and yet House the shooter they went to, down 3 with seven seconds remaining. Not Wade, Not James. 0-fer Eddie House.
But if the Heat want to really examine why they lost their second game in the first two weeks of the season, they have to examine the two areas everyone pointed to coming in. The Hornets abused them both at the point guard and center positions. Carlos Arroyo tried for about a half to guard Chris Paul before Erik Spoelstra was forced to turn to Wade to defend CP3, who did a much better job. Well, I mean, held him to only 19 assists and 13 points.
Meanwhile, Okafor was dominant, with 26 points on 12 of 13 shooting and 13 boards. Best of all, for the first time that I've seen, Okafor really looked to understand the kind of movement he needed to have with CP3. He even had some of those alley-oops Tyson Chandler used to catch back in the Hornets run of 2008. He had the mid-range going, the baby hook, the swing-up fadeaway, the whole repertoire. And by whole repertoire, I mean a lot of shots he's never shown reliably before this year. Devastating inside-out attack.
For Ariza to nail the corner three to finish the game was a shock because he didn't look good for much of the game, opting for pull-up threes in transition and other Ariza-shots. But he hit the one he needed to.
The Hornets broke out in transition ridiculously fast. With Paul getting 5 steals, they managed to burst out and all the Hornets would rush out. The Heat on the other hand seemed to be trying to glide down court, with little to no intensity.
Jason Smith was huge for the Hornets, as he continuously burned the Heat who let him have the 18 foot jumper.
Wade had 28, 10, and 7, but also had 7 turnovers. His matchup with CP3 late was pretty epic.
The Heat eventuall switched to a shallow perimeter trap on Paul, which is the best way to go. A high trap he'll split and in space he's killer. Unfortunately, the Hornets switched to a double-screen which freed him to do damage down the stretch.
The game nearly came down to a technical foul called on Paul after throwing his fist following an offensive foul. Paul even tried to contain himself afterwards to not get busted, to no avail. The officials are still not kidding about the tech rules.
Chris Bosh had a rebound tonight. A single board. And was useless in the post. He was great from mid-range and on tip-ins, but Bosh is simply not the kind of low-post big you'd want him to be.
The Heat defense, which had been so good, gave up a 107.9 efficiency rating, and 49% field goal percentage. That's not going to get it done.
Conversely, it may be time to start accepting that the Hornets are for real. The trifecta of firepower they brought in (Paul-West-Okafor) is firing on all cylinders, their shooters are hitting from the outside, and true to Monty Williams' word, they're out and running in transition. It's still early, but the Hornets very much look for real.
Finally, these images from
our GameTracker
pretty much put it in perspective.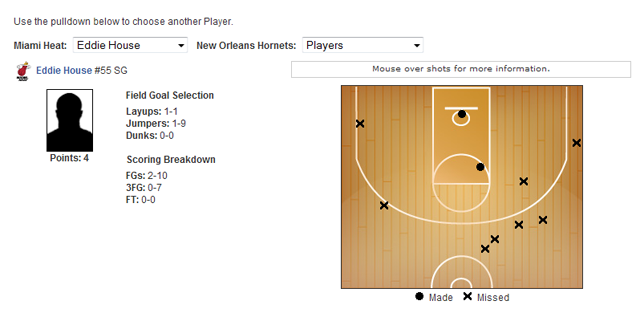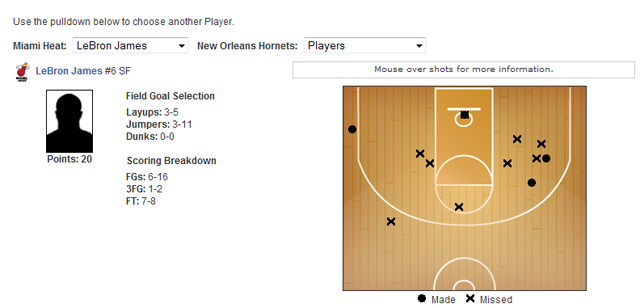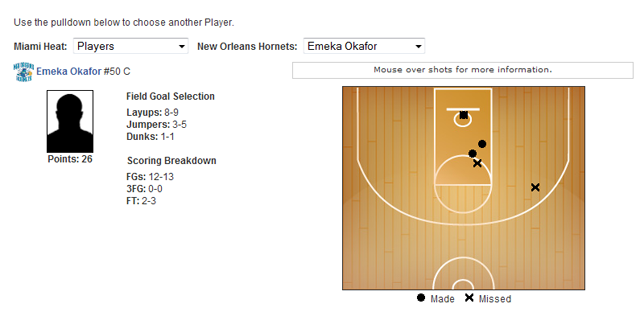 Note the numbers, for Okafor. That big square down in the paint? That stands for 9 shots, 8 makes. Manly.