Boston Celtics forward Kevin Garnett called Detroit Pistons forward Charlie Villanueva "a nobody" on Friday night. Posted by Ben Golliver.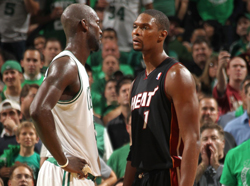 Welcome back to the latest installment of the Thirty Years War of Words. That's right: another post about the back-and-forth squabbling between Detroit Pistons forward Charlie Villanueva and Boston Celtics forward Kevin Garnett that began when Villanueva took to Twitter to accuse Garnett of calling him a "cancer patient." To quickly recap the week's events.
Early Wednesday morning, Villanueva posted multiple messages on his Twitter account claiming that Garnett insulted him by calling him a "cancer patient" during a Pistons/Celtics game on Tuesday night.
On Wednesday, Denver Nuggets coach George Karl, a cancer survivor, expressed disapproval for the alleged comments.
On Thursday, Celtics president Danny Ainge defended Garnett, saying he wouldn't make such an insensitive statement and calling Villanueva a self-promoter
At that point, everyone was sticking to his story. Villanueva didn't budge and neither did Garnett. Everyone assumed it was time to move on. That is, until Friday night, when ESPNBoston.com quoted Garnett
on Twitter
saying the following about Charlie Villanueva: "He's a nobody. I'm not paying attention to nobodies any more." Garnett hasn't said much that I've agreed with during this episode, but I think he finally stumbled onto an insult that's difficult to dispute. Villanueva, a massively-overpaid and overrated player on one of the league's worst teams, is, in fact, a nobody in the NBA. He wasn't worth Garnett's time during the initial confrontation and he certainly hasn't been worth all the hot air since. While Villanueva is a nobody in the NBA, he is still a person. As such, he deserved a modicum of decency given the sensitivity that goes with a rare skin condition that has led to verbal abuse throughout his life. So while it's unlikely Garnett will enroll in sensitivity training any time soon, his refusal to drop the situation reveals a basic discomfort with how it played out. Perhaps then, in an ironic twist, Garnett now realizes that his trash talking of a "nobody" wasn't worth his own time in the first place. Hopefully this saga will help harness some of KG's vitriol in the future, serving as a lesson that over-the-top trash talk can come with a public price that's simply not worth paying. That would be a huge win for the rest of us.