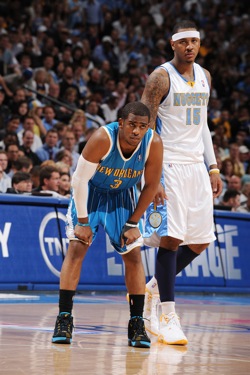 Posted by Royce Young
The 2012 Olympic roster is filling out already. Well, not technically. Just players that will almost definitely be on the team are saying they want in. So far,
LeBron James
,
Dwight Howard
,
Kobe Bryant
and
Kevin Durant
have all said they are ready and willing.
Well, add two more:
Chris Paul
and
Carmelo Anthony
.
Paul told The Times-Picayune that he's all in.
"I'm in. I want to be," Paul said Friday night. "I want to play. If they'll have me, I want to play."
Anthony told The Denver Post,
"I'm in," Anthony said. "Yeah, I'm locked in."
Of course, both players have to "make" the team, but that shouldn't be too much of an issue. Neither participated in the 2010 World Championships though. Paul didn't play because he was recovering from a couple different injuries. Anthony didn't play because he was getting married.
"At least most of us (from the 2008 team want to play)," Paul also added. "Those guys did an outstanding job this year, so it's going to be tough with the committee deciding who's going to be on and off the team. But I want to be on. No question. I need me another gold medal."
They aren't complete locks though because Coach K and Jerry Colangelo seemed extremely pleased with the roster that participated in Turkey. So with some of those guys maturing a bit more over the next two years, there actually may be some competition.
But think about it: Durant, LeBron, Kobe, Howard, Paul, Carmelo are almost certainly going to be on the team. And then there's
Derrick Rose
,
Russell Westbrook
,
Eric Gordon
,
Stephen Curry
and the list of guys that were terrific in Turkey. And
then,
there are other players like
Deron Williams
,
Tim Duncan
,
Chris Bosh
and
Dwyane Wade
who haven't committed either way yet.
The 2012 roster will definitely be stacked. It's just a matter of who it's stacked with.