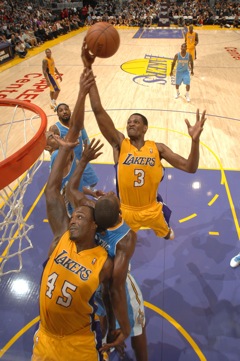 Posted by Royce Young
It's not easy to make an impact as a rookie with the Los Angeles
Lakers
. The team is stacked with a ton of veteran talent to start with, plus the Lakers are typically picking in the late first round anyway.
But rookies
Derrick Caracter
and
Devin Ebanks
have kind of found their way on to the floor and have added some value to the Lakers. However, that time may be short lived.
With
Andrew Bynum
returning in about three weeks, room in the rotation won't be there and both Caracter and Ebanks might find themselves inactive and sitting in suits on a nightly basis. So instead of just leaving them be,
Phil Jackson told the O.C. Register
that he'd like to see both sent down to the D-League to get some more experience.
Caracter has actually been playing a decent amount appearing six of the Lakers seven games, including a season-high 16 minutes in a blowout win over the
Grizzlies
last week. It's not a ton, but Caracter is getting 6.5 minutes a game and it's not just scrap minutes. He's been filling in at power forward in the meat of the game.
Ebanks has seen less time appearing in just three games. But he's shown flashes of talent and as a 6'9 swingman with handling abilities, he's someone worth being patient with.
But when Bynum returns, that playing time won't be there. So the Lakers are taking a wise step and instead of getting nothing out of the two young talents, they're going to try and develop them. That's not something you see a lot of from the Lakers who don't really focus a ton on internal development, but with an eye toward to the future, they're going to take some time with Ebanks and Caracter.