Durant and Garnett not buddy-buddy, you guys.
Posted by Matt Moore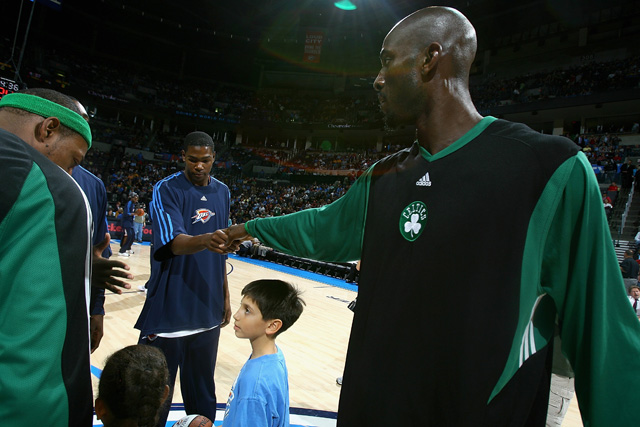 Kevin Durant
gets along with everybody. He's a sweet guy, well-liked by all. Leader of Team USA, of the upstart
Thunder
team (that's failing to start up much this season so far), and respected by players near and far.
LeBron James
considers him a friend,
Ron Artest
speaks glowingly of him, everyone loves the guy.
Well, almost everyone.
You'll remember a game last season the Thunder won in Boston where Durant went to the line a few too many times for Boston's sake, prompting KG to make a post-game comment about it being like "Michael (expletive) Jordan out there." Turns out, whle KD appreciated the compliment, he and KG are not exactly buds.
From the
Boston Herald
:
"KG is a top 50 greatest ever to play the game and for him to say that about me is kind of flattering. That's when people started recognizing me a little bit. But I couldn't let that affect how I play or our team. I appreciated it, but it was time to move on." When asked if he talked to Garnett since then about the topic, Durant said, "Nah man, I don't talk to KG."
Probably just a coincidence that the two aren't buddy buddy, considering the age difference and all.
Or it could be that
Kevin Garnett
is hyper-abrasive like corrosive acid and scares people. Hey, at least KG's for real, and KD's not making up stuff about how much Garnett has helped him.
Have I mentioned how great a playoff series would be between these two teams? Stupid conferences.