The Chicago Bulls defeated the Denver Nuggets, 94-92, in Chicago on Monday night. Posted by Ben Golliver.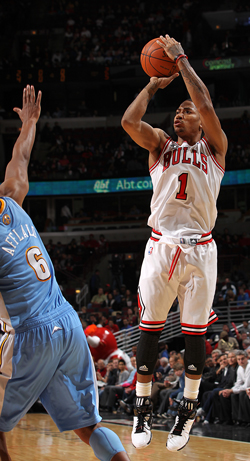 It was a bit of a grinder in Chicago on Monday night, as the Denver Nuggets limped into the United Center without power forward
Kenyon Martin
for a date with the Bulls, who were short-handed themselves thanks to the absence of power forward
Carlos Boozer
. Chicago prevailed thanks to a balanced attack, which saw all five Bulls starters tally double-figures. Despite the balance, none of the Bulls main weapons was particularly efficient, with forward
Luol Deng
shooting 6-18, guard
Derrick Rose
shooting 7-21 and big man Joakin Noah shooting 4-11. The Nuggets received a big night from all star forward
Carmelo Anthony
, who put up 32 points, eight rebounds, one assist, four steals and two blocks, but it was basically a one-man show. Denver looked out of sync to close the game and struggled to hang out to the ball all night, committing 18 turnovers. Chicago got the late-game breaks, starting with a sensational steal by Bulls guard
Keith Bogans
which led to a runout, as Bogans found Deng with an over-the-shoulder pass that Deng flushed to put Chicago up 88-84 with two minutes to go. Rose, who struggled with his shot throughout the game, hit a big pull-up with a little more than a minute remaining and came up with a few possession-saving defensive plays down the stretch. In the game's closing seconds, Chicago made an interesting strategic move, electing to foul Anthony even though they held a 3-point lead. Melo hit both free throws, but Bulls forward
Kyle Korver
held serve, making both of his on the ensuing Bulls possession. On Denver's final possession, guard
Arron Afflalo
missed a corner 3-point attempt long off a neatly-designed inbounds play. That was the ballgame. Protecting home court against a Western Conference playoff team, as they did last week against the Portland
Trail Blazers
, makes tonight's win a big one for Chicago, who still look like the odds-on favorites to win the Central Division despite some inconsistent early season play. With the win, the Bulls improves to 3-3 on the year. With the loss, the Nuggets fall to 4-3.