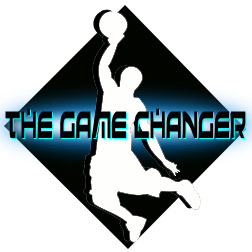 Monta Ellis goes down hard, Zach Randolph goes 23/20, the Celtics got Dirked, Stephen Curry debates important political issues with a foreign emissary and then goes off on the Raptors, and LeBron James weighs in on an important coaching decision. Posted by Ben Golliver.
Each game is made up of elements which help formulate the outcome. Monday through Friday, we'll bring you the elements from the night before's games in our own specialized version of the game recaps. It's not everything that happened, but it's an insight into what lead to the results you'll see in the box scores. This is
the Game Changer.
THE BIG ONE: STEPH CURRY SPARKLES IN WIN OVER RAPTORS
It might not have been the night's marquee match-up (keep reading for the big finish in Dallas), but the Golden State
Warriors
vs. Toronto Raptors game may have been the most watchable.
Get ready for another Stephen Curry gush fest. Despite a wobbly ankle that has kept him out of action recently, Curry brought the do-everything electricity Monday night, unleashing wicked crossovers, making smart decisions in transition, finishing smoothly in traffic and pressing Toronto's (lack of) defense constantly by remaining in attack mode.
How Curry doesn't receive more national publicity is beyond me, as he combines elements of
Steve Nash
and
John Wall
into a pure-shooting, hard-working, highly-intelligent package that screams marketability. The mental lapses that lead to turnovers are still there, but so is the absurd statistical output: 34 points, five rebounds, four assists and three steals in 36 minutes. Plus a ridiculous 12-21 from the field, including 2-4 from deep and a perfect 8-8 from the line. This guy will break your efficiency calculator.
While Curry was just returning to the court, his teammate, Monta Ellis, was crashing down hard onto it. Check out
the must-see video
of Ellis's scary hard fall late in the fourth quarter, one that necessitated the training staff's help to carry him off the court and post-game X-rays on his back. Ellis, who has been sparkling in the early season, had 28 points again tonight before the injury.
The Warriors closed the door without their go-to option thanks mostly to Curry, who had the final seven Warriors points down the stretch.
While awards are not given out for defeating the terrible Toronto Raptors, the Warriors showed on Monday that they could take care of business, on the road, while sustaining some adversity, a necessary outcome for a team that has its collective eye on playoff contention in the Western Conference.
GO-GO-GADGET LINES:
Zach Randolph:
23 points, 20 rebounds, two assists, three steals on 9-16 shooting in 41 minutes in a Memphis home win over the Phoenix
Suns
.


Honorable mention to...


Stephen Curry:
34 points, five rebounds, four assists, three steals on 12-21 shooting in 36 minutes in a Golden State road win over the Toronto Raptors.


Dwight Howard:
27 points, 11 rebounds, one assist, one steal, one block in 34 minutes in an Orlando
Magic
win over the Atlanta
Hawks
.


Joakim Noah:
13 points, 19 rebounds, one assist, four blocks in 39 minutes in a
Bulls
home win over the Denver
Nuggets
.


Rajon Rondo:
11 points, 15 assists, six rebounds, five steals and a block in 42 minutes in a Celtics loss to the Dallas
Mavericks
.
HERO OF THE NIGHT:
It was a game of runs in Texas, with the Dallas Mavericks running out to an early lead, then giving it all back (and more) to the Boston Celtics. But the Mavericks mounted a final push at the right time, running off the last seven points of the game.
The last two?
This money game-winner from Dirk Nowitzki, over the out-stretched arm of Celtics forward Glen Davis. You've been Dirked.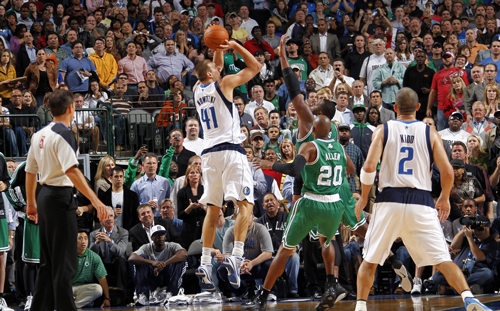 DON'T MISS:
WHIMSY:
Golden State Warriors point guard Stephen Curry and the Toronto Raptors mascot discuss the Republican takeover of the House of Representatives during the midterm elections.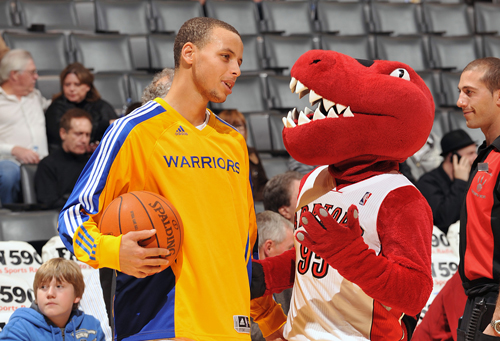 ONE FINAL THOUGHT:
Dallas Cowboys fan LeBron James, who knows a thing or two about coaches getting fired (cough, Mike Brown, cough),
weighed in on Twitter
with his thoughts on who should replace Wade Phillips in the Big D. "We want Coach Cowher or Coach Gruden!! No one else is ready for that task and I know they will command RESPECT right off top!! Let's go."


Follow F&R on Twitter at @CBSSportsNBA and check out our RSS feed . This has been your daily edition of the Game Changer.