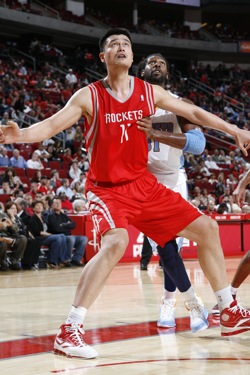 Posted by Royce Young
Before the season, the
Rockets
made kind of an unprecented move by putting center
Yao Ming
on the basketball equivalent of a pitch count. Yao is set to play a maximum of 24 minutes a game. Plus, he's not allowed to play in both games of a back-to-back.
This is an effort by the Rockets' medical staff to relieve stress on Yao's body and hopefully present him with an opportunity to stay healthy this season. Except, they might be changing their mind.
The Houston Chronicle has the word:
The Rockets medical staff is exploring through a series of on-going meetings, changing the limits on Yao's playing time because of the progress he has made in his comeback, a team representative said on Tuesday.

The discussions could lead to an increase in his playing time from the limit of 24 minutes per game, changes in the way his minutes are distributed throughout the game and clearance to play both games of back-to-backs.
Yao is averaging 12.8 points and 6.5 rebounds in 21 minutes per game and the team is excited about how he is returning to form.
The thing is, maybe Houston sees it's time to take things with a more urgent perspective. The team just got its first win of the season a few days ago, but starter Aaron Brooks is now out 4-6 weeks. Add in that Kyle Lowry is hurt, plus Kevin Martin is dinged up and the Rockets are suffering a bit. There's a chance the Rockets could slip behind quite a bit before Christmas. And potentially, that's why the medical staff is now looking to work around Yao's pitch count.
Hopefully the Rockets have a full grasp on the issue here. It was an interesting move before the season to put Yao on the 24-minute count and it's a little surprising to see them re-evaluated only two weeks into the season. But I'm sure they weren't expecting a 1-5 start with a rash of injuries either.