The Detroit Pistons are caught between the past and the future, without a workable present. Posted by Ben Golliver.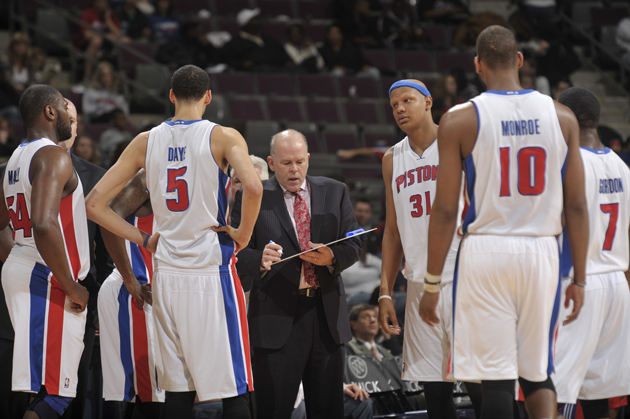 Tuesday night ended for the Detroit Pistons with a shirtless Richard Hamilton seated, hunched over a box score placed between his legs on the locker room floor, silent, oblivious to his teammates and the world for at least five minutes. Hamilton just stared and stared and stared at the numbers, which, once again in this young season, revealed a franchise stuck between the past and the future, with a hodge-podge present that simply doesn't function.
The Pistons had just been worked by the Portland Trail Blazers, 100-78, with Portland's litany of injuries not affecting their ability to dominate the game on both ends, and the glass. Pick just about any statistic on Hamilton's box score and Portland dominated the category. Rebounds: 45 to 33. Assists: 26 to 16. Shooting: 50% to 42.5%. If Hamilton was searching for a silver lining, he wasn't immediately finding one, and by the time he finally trudged off to the shower room, some of his younger teammates had already cleaned up, dressed, conducted their post-game interviews and headed to the waiting bus.
You need not spend more than a few minutes glancing at Detroit's roster to realize this is a team divided, a group that, even with maximum effort and improvement from all of its rising players, isn't constructed for short-term success. "We played like strangers," Pistons coach John Kuester said after the game, making reference to his team's ability to register just five second-half assists, but the statement fairly encapsulated the 2010-2011 Pistons as a whole.
Hamilton and old guard championship teammates Ben Wallace and Tayshaun Prince occupied one side of the post-game locker room, heads down, voices monotone, after the loss. Prince didn't mince words when discussing his frustration. "It's everything. Not just one thing. Everything. It's always that way when you're not winning. Even our wins didn't feel like wins. When that happens, you know it's a problem."
A problem for Prince, perhaps, but his younger teammates on the other side of the locker room didn't seem as touched, as Charlie Villanueva laughed and smiled, second-year forward Austin Daye exuded a flat air of relative indifference, and a shell-shocked Greg Monroe looked like he was trying to escape his decision to turn pro as he hustled quickly out of the locker room with headphones drowning out the world.
The night ended with that distinct divide, but it started that way too. Two hours before the game, Daye, Monroe and DaJuan Summers worked through their shootaround routines together, looking to develop skills under the tutelage of the team's assistant coaches, and to enjoy a few laughs. Only after the young trio ceded the court did Prince and Wallace take the court, briefly and mostly in silence, to get their blood going before the game.
Asked to define the team's identity after he completed his pre-game workout, Daye stuttered briefly before admitting the group feels like two halves of a team that haven't yet joined together. "We've got older guys, younger guys, we're trying to mesh it all together," Daye said. He also pointed to himself, Monroe, Villanueva, Rodney Stuckey and Ben Gordon as possible core pieces for Pistons president Joe Dumars going forward. "He's just trying to get a good nucleus and we'll see where he goes."
The in-game product evinced this generation gap, as Detroit's offense was predicated almost entirely on which one of four perimeter players would shoot a jump shot, while Wallace was tasked with claiming any and all rebounds by himself. On defense, the Pistons leaked points, giving up 36 in the first quarter to the Blazers, the most Portland has scored in a quarter all season long. Multiple times Prince snapped at Daye for either missing a rotation or losing contact with his larger opponent, Portland power forward LaMarcus Aldridge, who ate the lithe Daye alive on the block, to the tune of 19 points and 17 rebounds.
Prince said he was only trying to help Daye. "I'm talking to him a lot because he's in a tough position. Usually when you're at a disadvantage, guarding a bigger guy, playing out of position, you want him to stay in contact with that guy so he can work the boards at all times. We're asking him to do a lot. Not only asking him a lot to do a lot on defense but also keep a 7-footer off the boards every game. His job is harder than everybody else's."
Daye's task isn't just harder than everyone else's though, it's impossible. A pure shooting prototypical small forward who has worked to develop his NBA range, Daye is mismatched against just about every NBA power forward when the Pistons play him at the four spot in their undersized starting lineup. The positional switch is by necessity, so that Daye can get enough minutes to develop with Hamilton and Prince ingrained as mainstays, but given the directionless path Detroit is on, the lineup feels short-sighted. For his part, Daye says doesn't mind it. "The playing time is a lot better," he said with a smile before the game. Better to be playing out of position, than not playing at all.
But the playing time would be even better for Daye, who is averaging 21 minutes a night, should the Pistons move either Hamilton or Prince in a midseason trade, allowing him to transition into a more natural perimeter role. League sources tell CBSSports.com that trade speculation surrounding Prince is accurate. Watching him slowly pull on his leather boots one by one after another defeat, it seems like a move is in the best interest of all involved parties.
Should either Hamilton or Prince be moved, a big man capable of manning the glass and establishing a low post presence would seem to be the clear target. "It obviously hurts just having Ben as our only primary rebounder out there … I'm pretty sure all but one game we've been out-rebounded so we've just got to do better," Prince said.
But he didn't sound convincing when he uttered those words. Surely he realizes that Detroit's biggest problem, rebounding -- they're currently ranked No. 28 in the league in overall rebound rate -- is a matter of personnel and not effort. "Doing better" is not a viable solution for this team's rebounding ails. Better players is.
Nevertheless, after an extended post-game conversation with his team, Kuester finally faced the media and was asked how the Pistons might play more consistently throughout the course of a game. "I can't pinpoint what we can do, but I do know we have to become better," he said.
And that said it all. Hoping to do better, but with no specific plan to make it happen.
There really are no answers for this group, no matter how long you stare at the box score or how you juggle the lineups. It's time to hit the trade market, and get started on the future.