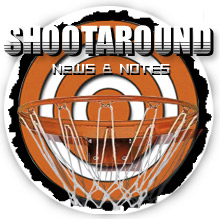 Durant doing fine at the bank, Knicks decide to love Lee still, and is Splitter a good defender?
Posted by Matt Moore
Apparently being in small-town Oklahoma City (which is actually big-town Oklahoma if you've ever been to the Sooner State) isn't slowing down Kevin Durant's endorsement opportunities . It may be time to really stop feeding into this myth that you need to be in a big market to be able to make great money through endorsements. If Melo would come to realize that, maybe he wouldn't still be in Denver where he's essentially spinning his wheels for no reason.
Knicks fans gave David Lee a terrific ovation last night . There's been a lot of positive regard this season for returning players who now play on different teams. Why do I have a feeling Cleveland will not be continuing that approach?
A great throwback interview with Moses Malone. With all this talk of Chris Bosh after he was discussed as a top player in the league this summer and now with his struggles in the paint, you think about what it would have been like if Moses Malone had joined a team like the Heat. Then again, you could make the argument that Dr. J's Sixers were pretty Heat-like in terms of talent.
Tim Varner of 48 Minutes of Hell contends that Tiago Splitter is playing incredibly well on the defensive end, the box score just doesn't capture it . I would argue he needs to watch Splitter's weakside defense and ability to hedge effectively, but I'm a stickler for such things.