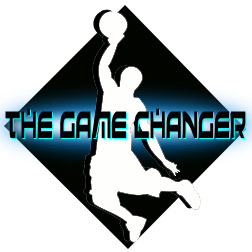 Michael Beasley Nets a career high, John Wall gets his first career triple-double and finishes a sick alley oop, a giant Sonny Weems head makes an appearance in Toronto, Elton Brandon re-emerges, plus plenty of audio and video from Oklahoma City vs. Philly. Posted by Ben Golliver.
Each game is made up of elements which help formulate the outcome. Monday through Friday, we'll bring you the elements from the night before's games in our own specialized version of the game recaps. It's not everything that happened, but it's an insight into what lead to the results you'll see in the box scores. This is
the Game Changer.
THE BIG ONE: JOHN WALL GETS HISTORIC ON THE Rockets
Wednesday was an historic, high-flying night for Washington
Wizards
rookie point guard John Wall, and he was all over the court on the way to his first career triple-double in a 98-91 Wizards win over the Houston Rockets in D.C. Wall's top end speed is among the best in the league, and against the Rockets, who are dealing with absences and injuries in their backcourt, he was often a blur, racing out in transition and leaping into passing lanes. It was a hyperactive but still controlled performance for Wall, who finished with just one turnover on the evening and looked more comfortable shooting from range than he has all season. For Houston, it was a tough night all around, as the Rockets lost Yao Ming during the first half
due to a leg injury
. Yao or no Yao, the Rockets and they had no answer for Wall, who joined some elite NBA company by registering his 19 point, 10 rebound, 13 assist triple-double in just his sixth NBA game. Take a look at the chart to see how he stacks up to some of the league's all-time greats.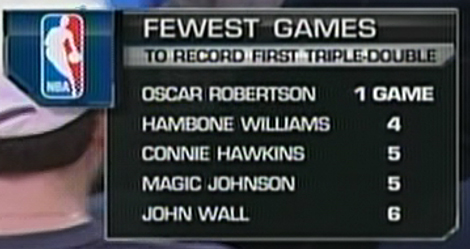 And we'd be lacking in our Wizards/Rockets coverage if we didn't link up this video of Wizards guard
Gilbert Arenas
tossing a soft alley oop to Wall, who finished acrobatically with one hand. Too sick.
GO-GO-GADGET LINES OF THE NIGHT:
Michael Beasley:
42 points, nine rebounds, two assists, 1 steal on 17-31 shooting in 41 minutes in a road win for Minnesota over the Sacramento
Kings
. The 42 points were a career-high for Beasley.


Honorable mention to...


John Wall:
19 points, 10 rebounds, 13 assists, six steals, one block on 8-16 shooting in 42 minutes in a home win for Washington over the Houston Rockets.
Deron Williams:
30 points, five rebounds, 14 assists on 8-19 shooting in 42 minutes in a road win for the Utah
Jazz
at the Orlando
Magic
.
Kris Humphries: 13 points, 18 rebounds, three assists, one steal, two blocks on 6-12 shooting in 40 minutes in a road win for the New Jersey Nets at the Cleveland Cavaliers.
TURN BACK THE BRAND:
By Royce Young
OKLAHOMA CITY -- At one point, I had to look at my watch. I could've sworn it was 2005. There was Elton Brand, slender, fit, healthy and playing excellent basketball. It was like seeing an old dog get up and remember some of the tricks you taught it as a puppy.
Brand had his mid-range jumper working, was aggressive on the glass, posted up and defended the paint. Most people have sort of forgotten what an absolute force Brand was in the past, but with his start to 2010, folks are getting a refresher.
Against Oklahoma City, Brand put up a smooth 17 points and nine rebounds. On the season, he's averaging 18.4 points and 8.3 rebounds per game. And for a rebuilding team where he's a big focus for opponents.
In the offseason, it's crazy to think Brand was going to be given away for next to nothing. The Sixers wanted to dump his massive contract, get some picks and young players back and go from there. At no point did it seem realistic that Brand could be part of that building. He seems happy being on this young squad.
"I can see us getting better," Brand said after the close loss to the Thunder. "We need to grow and have this translate into victories which it will. That's a sign of us getting better; us closing these games."
This is the first time really since Brand has been in Philly that he's completely healthy and in shape. And when he has those two things working, his basketballing abilities really come out. He's not one of the premier power forwards any longer, but probably 20 other teams would enjoy having his services. (But not his huge contract.)
The question is if Brand can sustain this for a full 82. It's not that he's over-the-hill (he's 31) or that he has a ton of mileage on him. It's that his recent history has held him back and makes one wonder if he's got it in him to keep going. Character has never been an issue for Brand so even if the Sixers stink - which they will - he's going to go hard.
Brand almost looks like he's from another era. It just doesn't seem like he fits on the floor, especially in a game featuring the young Thunder against the pups of the Sixers. But Brand is throwing back to an earlier time, playing like that former self that fits right alongside these up-and-comers. And the old man showed the kids a thing or two Wednesday in Oklahoma City.
DON'T MISS:
WHIMSY:
Toronto Raptors fans hold up a giant version of guard Sonny Weems' head.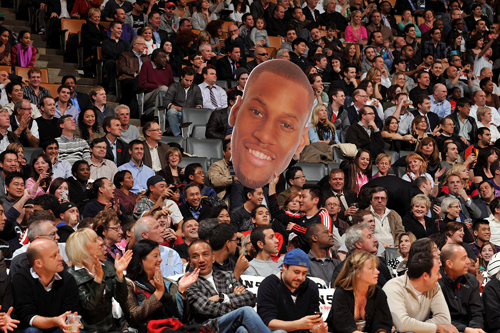 AUDIO/VIDEO GALORE:
Here's some video of Oklahoma City Thunder guard Russell Westbrook, who had a huge night with 31 points, five rebounds, and 12 assists, talking about his team's 109-103 win over the Philadelphia 76ers.


And here's audio of Philadelphia 76ers coach Doug Collins breaking down the game from the losing side.
ONE FINAL THOUGHT:
During his career-high scoring night on Wednesday, Minnesota
Timberwolves
forward Michael Beasley was
wearing his NBA head band upside down
, violating the league's new mandate. Will he be fined by the league office?

Follow F&R on Twitter at @CBSSportsNBA and check out our RSS feed . This has been your daily edition of the Game Changer.