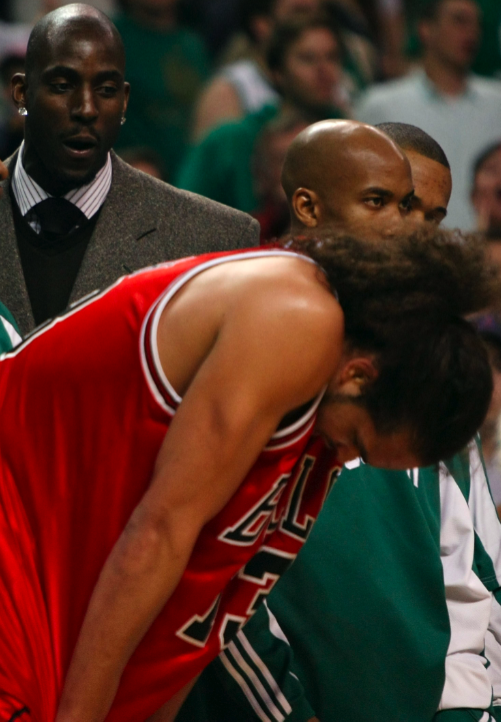 Posted by Royce Young
It was only a matter of time before it happened. Honestly, I can't believe it took this long.
Joakim Noah
isn't shy with his words and he isn't shy about talking about who he likes and doesn't. It's completely refreshing in an era where guys play with each other in AAU and come in to the league buddies. Noah isn't about any of that. He's about business on the basketball court and he's not holding anything back off it. So when it came to
Kevin Garnett
, Noah had some thoughts.
"Kevin Garnett will not — will not — get a Christmas gift from me," Noah said with a tinge of humor Wednesday on "The Waddle & Silvy Show" on ESPN 1000. "I don't like him…."

"He's a very mean guy," Noah said Wednesday. "Where's the love? None at all. Ugly, too…."

"I had his poster in my room," Noah said. "I used to wear his jersey. And the truth is my rookie year, I was in admiration of this guy, and he kind of shut me down.

"And he was very mean to me my rookie year. And he's only mean to the young guys and the [European players], for some reason. I don't know why, but that's who he doesn't like. He's not nice. I talk a lot of trash out there, but c'mon, be a little sensitive. Be sweet."
You hear that KG? Just be sweet man.
But here's what Noah called Garnett: Mean and ugly. Not a great combination. And I'm sure after the pounding Garnett has taken the past few weeks, he's not going to get any sweeter for Noah next time they meet.
Via ESPN Chicago