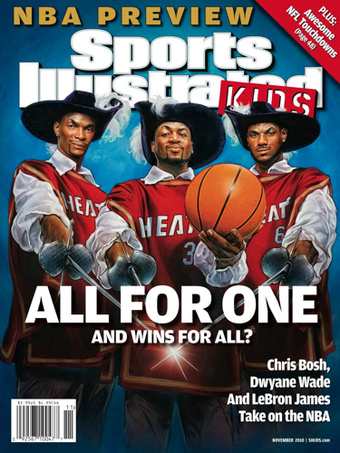 Posted by Royce Young
Take a look at that magazine cover on the right. It shouldn't take you very long to potentially put it all together.
Obviously, it's not hard to see how a certain city and a certain fanbase could take offense to that. But did
Sports Illustrated for Kids
have a motive behind this? Did they really want to take a big shot at Cleveland and Cavs fans?
I would think that would be a no.
That didn't stop Cleveland-area folks from getting into a tizzy over it.
During a report on it, one local TV reporter called it "outrageous." I can see that side of it, but I can also see the side that says it's outrageous to call it outrageous. I mean, real talk here. Why on earth would SI for Kids go for the low blow here? What purpose does that serve?
What likely happened is the graphic artist that rendered the art for the cover just wasn't thinking. SI for Kids aims to target, you know, kids, so more than likely the artist aimed to link the three Miami players to something kids can relate to. Three... something. An obvious choice would be the three musketeers. And it so happens the a musketeer and a cavalier are similar things.
But I think this speaks to Cleveland's absurd oversensitivity in all things LeBron at this point. I honestly think if someone were to order a No. 6 at a fast food restaraunt, other people would freak out, tackle him and demand that he say he hates LeBron. The whole thing has reached a point where not only has the surface tension given way, but were spilling over with ridiculous stuff.
Thing is, we're not really supposed to be seeing that cover anyway. Kids are. And I doubt that some 12-year-old in Akron really saw that cover and put it together.
Wait a minute. That's LeBron, Wade and Bosh. Dressed like... Cavaliers. WHERE'S MY COMIC SANS MARKER!?!?!
In the end, freaking out over little things like this just holds everyone back. It keeps the eye on LeBron, the eye on Cleveland's pain and nobody can get past things and notice that hey, the Cavs are 4-4 and playing pretty darn decent.
But maybe that's what Cleveland wants. Maybe they intend to milk all things LeBron until we're all bled completely out. They feel we all owe them our indignation. We don't, but we're not going to stop them from feeling cheated and betrayed. Such is life in Cleveland.
Via Deadspin