Miami Heat forward LeBron James says he is playing too many minutes. Posted by Ben Golliver.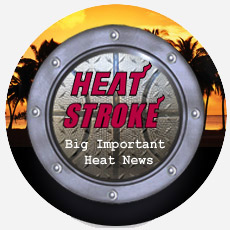 In the aftermath of
a convincing loss
to the Boston
Celtics
on Thursday night, Heat forward LeBron James, who nearly had a triple-double and was the only Heat player to really show up, told reporters that he is playing too many minutes,
according to Yahoo! Sports
.
"For myself, 44 minutes is too much," James declared. "I think Coach Spo knows that. Forty minutes for D-Wade is too much. We have to have as much energy as we can to finish games out."
"Coach Spo," of course, is Miami Heat head coach Erik Spoelstra, who
dug into his team at halftime
, saying the Heat needed to "let go of your ego" during the second half. While 44 minutes is too many for any NBA player to be playing in November, the timing of James' comments is tough for Spoelstra, who is beginning to hear whispers about his job security with the Heat beginning the season with a disappointing 5-4 record. Spoelstra certainly would prefer that any statements about playing time or coaching decisions be made privately, as would any coach. James isn't the first all star to make this type of comment already in the young season, as Portland
Trail Blazers
guard
Brandon Roy
told reporters
this week that he too would like to play less minutes to relieve swelling on his left knee. But the stakes are much higher in Miami than they are in Portland, with the media attention magnifying every statement to a national level instantaneously. The bigger issue for Spoelstra: Why is he being forced to rely so heavily on James and is there a feasible workaround? Without
Mike Miller
until at least Christmas
, and with disappointing recent efforts from guard
Dwyane Wade
and forward
Chris Bosh
, it's no wonder Spoelstra has turned to James, arguably the most reliable producer in the NBA. Longterm, that is not a winning strategy. James proved in Cleveland that there is a limit to the burden he can carry. Indeed, that's why he signed up with the Heat in the first place. Unfortunately for Miami, what we're witnessing in James' grumbling is a by-product of the Heat getting exposed for their lack of depth. Outside of the big three, the roster is stacked with replacement-level or worse performers who can't capably handle much more than spot duty at this juncture. While the Heat haven't reached a crisis point yet, lack of depth is going to be an underlying issue from now until the playoffs. That James is making it known that he doesn't want to shoulder the burden of this problem so clearly and so early in the season is not the most reassuring sign for Heat fans. Mike Miller can't get back soon enough.