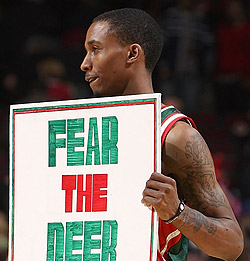 Posted by Royce Young
It was a catchy line that not only caught fire in Milwaukee around playoff time last season, but league-wide. Everyone was saying it, tweeting it and writing it. At this point, "Fear the Deer" is basically the
Bucks
' team slogan.
So of course someone needs to make some money off it. That's the way things work around here, right?
Via the Milwaukee Journal-Sentinel:
The slogan is thought to have originated with ESPN's Scott Van Pelt on a SportsCenter broadcast, but other versions of how it came to be have surfaced. In any event, the phrase has become a hashtag on Twitter, gets mentioned often on Facebook and generally is the go-to rallying cry for Bucks fans.

The NBA and the Milwaukee Bucks have taken notice, too. Late last season, the NBA, at the request of the Bucks, filed for trademark rights with the U.S. Patent Office. This is routine, according to Mike Bass, senior vice president for marketing and communications at the NBA. Other teams have made similar requests.

That application is pending, Bass said.

Having taken that step, Bass said no one can use the phrase for commercial purposes without the permission of the Bucks and the NBA. If they did, it would be infringing on trademark rights, he said.
Now I don't know about you, but something certainly seems off with that to me. Nobody can really nail down where the phrase comes from, but it's obviously a fan rallying cry. And for the team to make money off of that feels weird. Obviously we shouldn't expect anything less from the big business owners of professional franchises and the NBA, but still.
Like what if the Red Sox decided to try and trademark "Yankees Suck!" as their slogan? Or "How 'Bout Then Cowboys" for the Dallas Cowboys? Or "F You LeBron" for the Cavs? Some things are better left for the fans. It's what makes all a little more fun. We have our saying. It's for us . If you're a real Bucks fan, you know about "Fear the Deer." I'm just not a fan of business folks swooping in and immediately trying to take over something organic like a fan slogan. Doesn't sit well.
But then again, if there's big money to be made here, maybe it'll prevent a lockout. If we're to believe David Stern and the league, the owners need every penny they can get.