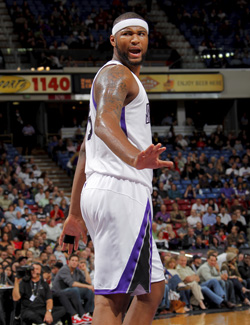 Kings rookie forward clashes with coaching staff and is fined. Posted by Matt Moore
DeMarcus Cousins
has reportedly recently been fined by the Sacramento Kings for clashes with the coaching staff.
I'm going to give you a second to get over your shock. I know. A gentle soul like DeMarcus Cousins? A sweet, humble, coachable guy like Cousins? How could this happen? What did those coaches do to provoke him like this? Maybe it was Calipari! Yeah, that's it. Calipari warped him!
Okay, so anyway,
ESPN reports
that Cousins was fined after not just an isolated incident, but a series of incidents that has created an air of tension.
You had to see this coming. This is part of the package. They brought in a coach from his youth just to try and keep him in line. They've done their part in trying to deal with him. That's not to say they shouldn't fine him. That's part of the process, too. But this still wasn't part of the initial best-case-scenario.
Cousins basic stats, 11 and 6, aren't great. But his per-40 numbers are terrific (a double-double) and
all his advanced stats
look great for a rook, too. It may be time for him to get the ball more if he can stay out of foul trouble (he's also averaging 8.0 fouls per 40). The Kings are certainly not getting it done with him in doses. Not the start the Kings wanted for this season, which was supposed to be one of growth for them.