The Miami Heat have printed up a poster with instructions for late-arriving fans. Posted by Ben Golliver.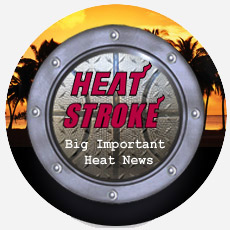 The Miami Heat, who had lost two consecutive home games entering Sunday night, have launched a multimedia, multichannel initiative to encourage and instruct its fans on how and when to cheer. Seriously. The team created
this flyer
with instructions for its fans. The flyer, headlined with the campaign's slogan "Fan up, Miami!" instructs Heat fans to watch the entire basketball game and cheer. It reads...
It's time to Fan Up, Miami!!
Fan Up... means being in your seat for tipoff... and staying there until the final buzzer. Fan Up... means standing up and making some noise for your Miami HEAT. Fan Up... means there is nothing fashionable about showing up fashionably late... it's just late. Fan Up... means the early bird gets the goodies. Fan Up... means "why would you want to miss one second of what's gonna go down with this team?" Fan Up... means that everywhere you go, everyone will know... that you are a Miami HEAT fan! The team also launched
a video component
to the effort, enlisting Heat fans and team cheerleaders to spread the gospel that Miami has real fans that do real fan things, like showing up early, cheering loudly, and not leaving early. My oh my. This campaign, which apparently was
launched back in October
but hasn't caught on in any meaningful way, is really something else. Despite re-signing all star guard
Dwyane Wade
and signing all star free agent forward
LeBron James
and
Chris Bosh
this summer, and then subsequently
laying off its entire ticket sales staff
, the Heat have
had trouble filling seats
, due in part to some uneven play and early-season on-court chemistry issues that have so far left the team trailing behind its huge expectations. This campaign would make sense if the Heat were a brand new expansion team, or if Miami was in an undiscovered civilization that never experienced live basketball. But this team just won an NBA title in 2006. Demanding that unexcited people be excited about something that apparently doesn't excite them is the definition of unproductive. It also comes off as poor form for the Heat die-hards who get what being an NBA fan is all about and don't need it explained to them on a placard. What would happen if we reversed this campaign and put it back on the Heat organization from the fan's perspective. Something like...
Team Up... means understanding your fans, their schedules and their cheering habits.
Team Up... means offering tickets at affordable prices in all areas of the arena. Team Up... means treating long time employees with respect (by continuing to employ them). Team Up... means trading Bosh for a real big man so that this team does't waste the primes of Wade and James. Only kidding about that last one. (Sort of.) But seriously, Heat organization, can this campaign before it catches on.