Miami Heat forward Chris Bosh got a win in his first game against his former team, the Toronto Raptors, but he did more watching than playing. Posted by Ben Golliver.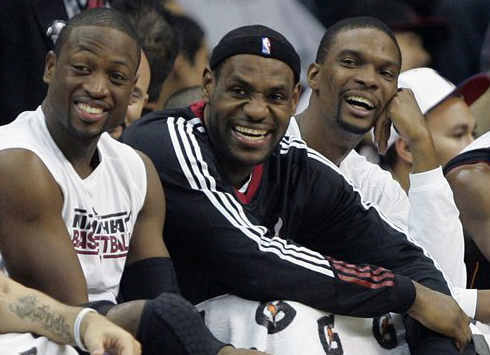 There Chris Bosh is, in the background of a picture taken earlier this year, laughing along with Miami Heat stars
Dwyane Wade
and
LeBron James
. Do Wade and James even know he's there? If Bosh was cropped out, and the Heat were a "Big 2," would life in South Beach be any different? Harsh questions, sure, and it's still very early this season. But the headline from tonight's 109-100 Miami Heat victory over the Toronto Raptors wasn't Bosh's revenge against his former team. It was Bosh sitting and watching from the bench in crunch time, and not smiling this time, as Wade and James exacted revenge on his behalf. Wade: 31 points, eight rebounds, two assists. James: 23 points, two rebounds, 11 assists, two steals. And, then, Bosh: 12 points, six rebounds and four assists on the night, plagued by foul trouble against one of the weakest overall front lines in the NBA. Playing just 21 minutes, he literally did more watching than playing on the evening. Even worse news for Bosh: his absence was barely noticed, as bruisers like
Udonis Haslem
and
Joel Anthony
filled in more than adequately. Bosh managed a few highlights -- he had a fantastic and-one move in isolation against Raptors backup big man
David Andersen
, who is barely an NBA player -- but otherwise the story on Saturday night was pretty much the same as it has been in recent games. The play went on around Bosh: a passerby with a great view of his spectacular teammates on offense, a passive witness on defense and the boards. There are many theories as to what is causing Bosh's funk. New teammates. New systems. New role. And, perhaps, questions about his physique. Raptors color man Jack Armstrong raised that last issue on the broadcast tonight, saying, " I dont think he looks as big and strong and has as much stamina, watching him play so far this year." Of course there was going to be an adjustment period. But how, exactly, will Bosh fit once that period is over? His primary skill, working one-on-one in isolation, is not nearly as valuable in Miami as it was in Toronto, given that Miami has two better isolation players on its roster. As it stands, Bosh is practically a liability on the boards -- he is averaging more than 3 rebounds per game below his career average of 9.3 so far -- with most of his rebounds coming uncontested tonight. On defense, he's been mostly a non-factor, with both Wade and James influencing far more plays over the course of a game than Bosh does. The good news for Miami is that they got back on a winning foot, improving to 6-4 on the season by outlasting a scrappy Toronto team that played with a lot of heart on the second half of a tough back-to-back. But the Bosh question will continue to hang over this team until the entire group is clicking on all cylinders. Beating bad teams and splitting against good teams isn't the mark of a champion. And that's where the Heat stand right now, even with strong starts to the season from Wade and James. Bosh was brought in to be the difference-maker, a playoff x-factor. Through 10 games, he's barely in the picture.