Washington Wizards point guard John Wall sprained his left foot against the Chicago Bulls. Posted by Ben Golliver.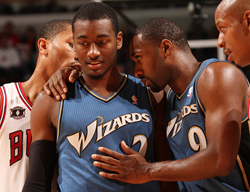 The much-anticipated regular season debut match-up between two No. 1 overall draft pick point guards -- Chicago's
Derrick Rose
and Washington's John Wall ended prematurely on Saturday night, when Wall suffered
what the Wizards called
a "sprained left foot" during the third quarter. Here's a description of the circumstances surrounding the injury
via the Washington Post
.
Midway through the third quarter, John Wall buried a three-pointer from the left corner but began to grimace as he ran down the court. He started reaching for his left foot, but couldn't stop for long, since the Chicago Bulls were setting up on offense. Wall noticed Luol Deng cutting toward the basket and slid in front of him to take a charge and suddenly the Wizards' night became more challenging.
Deng plowed over Wall, Wall fell backward and into the right knee of teammate Yi Jianlian. Yi collapsed to the ground and grabbed his knee. His blank expression didn't reveal the severity of the injury, but his inability to move certainly did. After being assisted off the ground, Yi was helped to the locker room by teammates Hamady Ndiaye and Kevin Seraphin. Jianlian suffered a bone bruise on the play and did not return.
Wall continued to play through the pain, but his night was over shortly thereafter, leaving his teammates to trudge along in his absence.
Rose, who started slow, won the statistical match-up, finishing with 24 points, four rebounds, eight assists, two steals and a block in 36 minutes. Wall finished with 16 points, two rebounds, six assists, one steal and one block in 30 minutes. Oh, by the way, Rose's team won the game, too: The Bulls downed the Wizards 103-96 in the United Center.