Ten games into the Era of the Triad for the Miami Heat, big questions have arisen, even as they show flashes of brilliance.
Posted by Matt Moore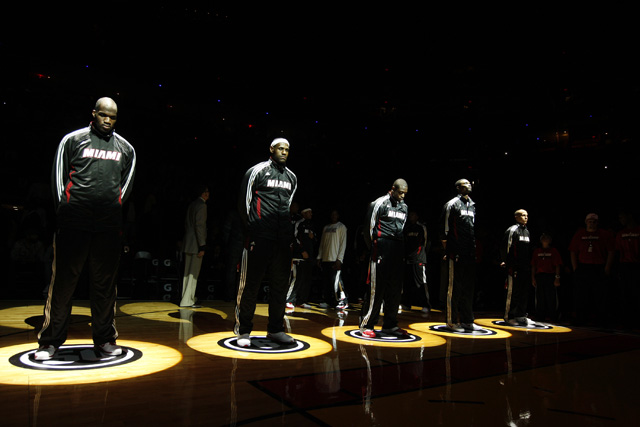 The Heat has played 480 minutes of basketball under the Triad's new era of alleged greatness. And so far? The results have been less than incredible. Miami isn't a bad team. That's important to state right off the bat. It's nearly impossible to be a bad team with the kind of talent they've assembled. But if we're looking at them honestly, game by game, there are significant weaknesses on a team that some thought would compete for 72-10. And they go way further than just "they're getting used to each other."
But to ignore the good is to fall into a very easy trap these days: overreacting to the weaknesses of a team that still has a winning record and has been within range in each of its losses of pulling it out. It's based on an emotional reaction by some to the grandiose approach the Heat gave to announcing their new superteam, most notably Lebron's little television fiasco and the whole "rising from the floor like you're some sort of wrestling superstar" bit. For others? They're simply cashing in on the easy pageviews trashing the Heat garners.
So what have we learned, ten games in? That in terms of X's and O's, this team is superb inside the rotation and weak out (as in great 2-3-4, and weak out, 1 and 5), and mentally they're superb out and weak in.
The Flames On The Floor
Watching the Heat, it's not as if you're left with nothing positive. There's a ton that you look at with this squad and marvel at. Particularly, the fast break with these kinds of athletes. There have been several times in the Heat's first ten games where
LeBron James
or
Dwyane Wade
would slip out on the break off the outlet pass, forcing the defense to overreact in abject panic as they sprinted up the floor. As the defense turned concave to guard them from getting in the paint, they gave up the backdoor to the other one sprinting, only realizing what was happening as the alley-oop sailed over their heads. Furthermore, there is not a single team in the league that possesses their kinds of players in isolation. Dwyane Wade and LeBron James, man-up? Impossible to guard.
Those elements are why offensively, Synergy Sports has them pegged with shooting 62% in transition, in the top 10 teams in the league in that category, and 42% in isolation, which is in the top half of the league. The latter will almost undoubtedly rise as the season continues and 20% of their games aren't taken up by playing the best isolation defense team in the league in Boston, who constantly sends help.
Then there are the spot-ups. The Heat is the fourth best team in points per possession in spot-ups. You can probably figure out why. With LeBron James and Dwyane Wade driving and kicking to the perimeter, the defense is forced to collapse, and the Heat shooters find themselves wide open. This strategy is brilliant against teams that can't close out and don't have sound defensive principles. But against the good teams in the league, like the four teams the Heat have lost to? It's not working out so well. In wins, the Heat is shooting 45% from the arc. In losses? 31%. That's a huge difference in their games. But this element is greatly impacted by the absence of
Mike Miller
. Miller will have to be a better shooter than
James Jones
and
Eddie House
have been, particularly in the big games. If he's not, James and Wade will have to start taking more shots instead of jump-passing on so many plays that are contested.
But that's an element that's not clearly a disaster. What is a disaster? Their point guard play and interior defense.
Carlos Arroyo
is not getting it done. Period. Arroyo is shooting fine, at 49%. His turnover ratio is low, losing the ball on less than 10% of all possessions. But he's averaging 3.3 assists per 40 minutes, 1.8 per game. The only point guard playing 20 minutes a game who's been worse at creating or teammates is... Eddie House. The idea coming into camp and that Erik Spoelstra has turned to is to let LeBron James play point guard. Which seems like a terrific idea, him being the best player in basketball.
But James too often is simply trying to bowl over opponents. Against teams like the
Celtics
who have the book on him, he's forced either into jump passes that go wild, off-balance leaning layups that carom off front-rim, or charges. He's not creating masterful plays like
Magic
Johnson. He's just running towards the rim, jumping and then throwing it in a general direction. Playing point means managing the offense, not simply lighting a fuse and hoping the charges blow.
Mario Chalmers
is not the answer, that's pretty clear. But it's hard to argue that having a younger, more aggressive point guard would really be a worse option at this point. At least Chalmers will be able to give a full effort versus Arroyo, who seems largely overwhelmed by the task at hand.
Speaking of overwhelmed
, how about
Chris Bosh
? When Bosh was taking calls from teams this summer, there were rumors that he was adamant about not playing center. Those talks simmered after he signed with the Heat, because obviously, he was expected to be the top big man on the team. The problem? This is no longer a big man's league, and even acceptable centers are hard to find. Meanwhile, Bosh looks lost on both sides of the floor. For some reason the Heat isn't using him in pick and roll situations, despite him being perfect for pick and pop scenarios. He's not rebounding, not attacking, and
unable to fight
like
you need your primary big to
.
This is nothing new;
we knew this about Bosh coming in
. But the team is trying to get him to be
someone he's not
, and in the interim, have no one to take the reins. For whatever reason, the subject of Erik Spoelstra's blame in the Heat's center problems has fallen on
Joel Anthony
. This despite being no worse than
Zydrunas Ilgauskas
and more capable of getting up and down the floor. Zydrunas Ilgauskas is a pick and pop shooter. That's what he does. And he can do it against teams like the
Raptors
who don't close out. He cannot do it against teams like the Celtics who do, even with
Shaquille O'Neal
on the floor.
In wins, the Heat actually does pretty well inside. It's only against teams which challenge them that they struggle.
Kevin Garnett
,
Paul Millsap
,
Emeka Okafor
. These players are getting what they want and it's simply been too easy. Either Joel Anthony or Chris Bosh will have to step up, or the Heat is going to have to find another option at Center.
The Spark
The biggest problem with the Heat, however, has less to do with their ball movement and such. Their defensive numbers have been good, but fallen off against good competition. The problem has been mental. They have lacked the aggression of a team that seeks to go out and dominate. Instead, they seem meek, confused at most times, and uncertain. Their ball movement is tentative, and their offense most times seems most like a group of players trying to convince themselves to make something work they're not really sure of. That will surely improve as they learn the offense more fully. But in the interim, they need fire.
The Celtics
smacked
the Heat in the face. Twice. Without a
home court advantage to speak of
, this team of promise is going to have to look inside, to all that anger they talked so much about in regards to the haters. They have to play with passion, with desire, and most importantly, with urgency. When the
Hornets
came out and blitzed them, they simply went through the motions. When the
Jazz
stormed back on them, they acted shell-shocked. And when the Celtics blasted them from start to finish, they made their close to finish the game, but lacked the intensity to prevent the gap from being insurmountable, and the drive to finish the job. If the Heat wants to become the team they assembled to be, the team they were promoted to be, the answer is simple. They are going to have to want it more.