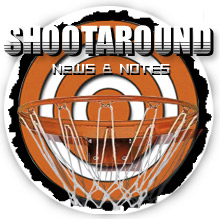 The Phoenix Suns get red hot from outside, Ken Berger checks in with the latest CBA negotiation updates, Evan Turner dorks out again, the Randy Foye / Brandon Roy 2006 draft night trade gets a second look, and a whole lot more.
Posted by Ben Golliver.
CBSSports.com's Ken Berger with the latest on the NBA's collective bargaining negotiations: "Commissioner David Stern and deputy commissioner Adam Silver will match wits with union chief Billy Hunter and president Derek Fisher of the Lakers on Thursday, Fisher told CBSSports.com. Fisher, who will be in Minneapolis on an off-day during the Lakers' road trip through the Midwest, will participate via conference call."
Denver forward Gary Forbes has been the subject of lots of Twitter jokes because his name sounds more like an investment advisor's rather than an NBA player's, but he's been a nice early spark for the Nuggets. Nuggets.com offers a nice profile, and discusses his battle with Type 1 diabetes.
This video won't help Philadelphia 76ers rookie Evan Turner's cause against his critics, who hammer on his nerdiness. Turner sits in a dark room and discusses his basketball cards. "Did you collect cards as a kid?," Turner is asked. "I sure did," Turner replies. "I collected a lot of them." Steve Urkel status. Told that one of his rookie cards is worth $120, Turner replies, "That's a cool thing. I just hope the value doesn't drop." Get excited, Philly!
Way back during the 2006 NBA draft, the Portland Trail Blazers thought they got a steal when they traded Randy Foye to Minnesota for Brandon Roy. Moves like this by general manager Kevin Pritchard earned the term "Pritchslap" in Portland. But StarTribune.com notes that Minnesota was willing to do the deal, in part, because of concerns over Roy's knee. "One of the reasons the Wolves traded Roy for Foye and cash is their doctors deemed Roy's knees too much of a risk. Now, Roy is struggling with his health -- his left knee, in particular -- and he suggested recently that his most athletic days are behind him." Roy did more in his first four years in the league than Foye will do in his entire career, but his recent injury struggles are casting the trade in a new light.
ESPN.com reports that second-year New Orleans guard Marcus Thornton, who was recently placed on the inactive list because the Hornets have brought in so many other guards, may be on the trading block. "The Hornets aren't eager to part with the 23-year-old, but word is they are prepared to do so if a suitable offer materializes. One problem, though, is that Thornton on his own can't bring much back in return since he's making only $762,195 this season. The flip side: Thornton will undoubtedly appeal to several teams because he produced like a starter as a rook and costs so little."
In other New Orleans Hornets end of the bench news, forward Joe Alexander got waived, reports Nola.com. "Joe was in a tough spot," [Hornets coach Monty] Williams said. "He didn't get a chance to play as much, and I just felt like he was going to need to go somewhere else and play so he could further his career.