New York Knicks power forward Amar'e Stoudemire criticizes the effort of his teammates. Posted by Ben Golliver.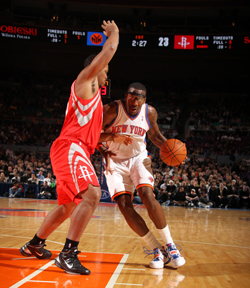 The good news for Amar'e Stoudemire when he signed with the New York Knicks this summer? He was set to make almost nine figures over the course of his new contract. The bad news? To earn the money, he would have to play for the New York Knicks. That was the rub the whole time for Stoudemire, who chose to leave a title-contending Phoenix
Suns
team, led ably by veteran point guard
Steve Nash
, the player best suited to bring out Stoudemire's potential greatness, to head east to play alongside youngsters, fringe professionals, and young fringe professionals. Just 10 games into the 2010 season, the other shoe has dropped for Stoudemire. After starting the season 3-7, including five straight losses,
Stoudemire went off
on his teammates after a Sunday night loss to the Houston
Rockets
.
"I don't understand why we're not playing with the urgency," a visibly dejected Stoudemire said. "I'm not used to that. We don't have that sense of urgency. It's almost as if it doesn't matter. That's something I'm not used to.
"I try to instill the fact that we have to play with sense of urgency. It's not like we won four games in a row, we lost four games in a row. We just still are not having the sense of urgency. We're not showing that we really want it."
Stoudemire's frustration is understandable, given that the team's current five-game losing streak included losses to 2-8 Philadelphia, 3-8 Minnesota and 3-6 Houston. If you can't stack up early season wins against those teams, it doesn't bode well for the long haul.
Meanwhile, in Phoenix, the Suns are coping without a real replacement for Stoudemire, using a bunch of perimeter power forwards to make due. While Nash seemed frustrated with his situation earlier in the season, the Suns are 5-4 after a surprising Sunday win over the Los Angeles
Lakers
. Surely, that success makes New York's struggles that much more frustrating for Stoudemire. But one gets the feeling that more frustration is in store for Stoudemire this season, given that he is not capable of single-handedly carrying a team to the playoffs. Until he gets a superstar tag-team teammate that has been rumored for months, Stoudemire needs to find a better way to deal with the losses. Otherwise, things could get a lot worse, quickly.