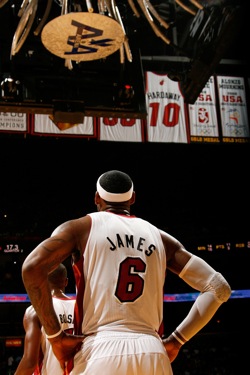 Posted by Royce Young
Since you're a former TIME Person of the Year winner,
I assume you'll find this interesting.
TIME's Person of the Year award is something pretty prestigious and something that's definitely newsworthy. Especially when probably the biggest name in professional basketball is
one of the nominees.
And also especially when the reasoning behind his inclusion doesn't have really anything to do with what he achieved on the court.
The reputation of LeBron James, still the best all-around basketball player on the planet, took a huge hit this summer because of The Decision , the unfortunate ESPN spectacle in which James dumped his hometown team, the Cleveland Cavaliers, on national television, all in the name of charity. Yes, The Decision , which followed a year of intense speculation about where James would land, decidedly stunk.

But we watched it. And talked about it. And debated whether coddled professional athletes like James owe their hometown fans anything more than years of success, even if falling short of winning a championship. As James teams up with Dwyane Wade and Chris Bosh in Miami, all eyes are still on LeBron.

Currently, in the public voting,
LeBron is sitting 23rd out of the 25 nominees,
ahead of
Hamid Karzai
who is Afghanistan's possibly corrupt leader and
Tony Hayward,
BP's embattled CEO. So LeBron's evil of "The Decision" sits right alongside the devastating oil spill and Middle Eastern politics. Good to know!
The fact LeBron is on the list is nothing but fascinating though. The way "The Decision" has absolutely captured the attention of
everyone
, even months after its airing, is genuinely amazing. I mean, look at some of those names LeBron is on there with. Jon Stewart and Stephen Colbert, Barack Obama, the Chilean Miners, Lady Gaga, Steve Jobs, Sarah Palin, Mark Zuckerberg - it's pretty wild.
LeBron's response to it has been on point too: "That's just crazy," James said. "What those guys did, the courage and what they stood for, I should be nowhere near that list. Nowhere near it."
Time including LeBron as a nominee is definitely an interesting take. Parnter
Sports Illustrated
has its Sportsman of the Year honor it hands out each year, and while LeBron is likely a candidate,
one prominent SI writer has already said the award deserves to go to the guy
many consider the anti-LeBron for exactly the opposite reasons TIME has nominated LeBron. And honestly, a good case can be made for both.