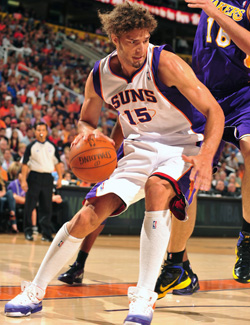 Suns center suffers two sprains in left knee, out several weeks. Posted by Matt Moore
When
Amar'e Stoudemire
headed on his happy way to New York, it was expected that
Robin Lopez
would be the recepient of the mantle of "best Suns big." Unfortunately, that plan is on hold.
The Suns announced today that Lopez has suffered a sprain of both his MCl and PCL in his left knee. Lopez wasn't playing terribly well to begin with and has been hampered with injuries most of the season, but this just sets him back that much further.
The sprains are expected to keep him out an undetermined number of weeks, which is going to mean lots and lots of time for
Channing Frye
and more time for
Hedo Turkoglu
at power forward.
Get excited, Suns fans.
The Suns beat the
Lakers
last night due in part to them hitting 700 3-pointers.