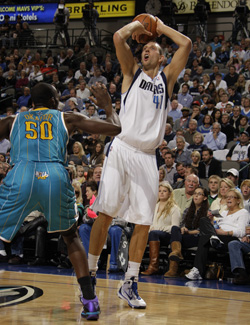 Dirk and Terry help Mavericks send Hornets to first season loss as they corral Chris Paul in second half. Posted by Matt Moore
Well, it had to happen sometime. The Hornets had managed to gun out to a franchise-best 8-0 start this season with new head coach Monty Williams leading revamped bench and wing units alongside a healthy Chris Paul. But
Dirk Nowitzki
and a very solid overall performance from the Mavericks proved too much and the Hornets suffered their first loss this season
in Dallas 95-98
.
The Mavericks have now knocked off
Rajon Rondo
and Chris Paul in a week, and though Paul dropped a line of 22 points, 9 assists, and 4 rebounds, the widely regarded best-point-guard in the league had 20, 5, and 4 at halftime. In the second half, Dallas threw a combination of hard hedges off the pick and roll and constant run-outs on the drive and kick to contain Paul. Paul often wound up late in the shot clock, having to hoist off-balance fade-aways as the Mavericks
used many of the same tricks
they used against Rondo to keep Paul out of the paint.
On the offensive end,
Jason Terry
was en fuego. While the Horents actually played great defense, their focus was on trying to stop Dirk Nowitzki (they didn't, he finished with 25 on just 12 shots), and Terry managed to slip out in transition or get open off offensive rebounds. The Hornets controlled the glass, but Dallas was more patient on offense, pulling in a higher free throw rate.
Now that the Hornets have suffered their first loss, the question now will become if they can go back to their winning ways or if this streak of play was a combination of things going right. A lot went right for New Orleans tonight, with
Willie Green
and
Peja Stojakovic
playing well in a rare appearance. Their defense suffered at the hands of good ball movement and Dirk-caliber play from Dirk. But if they keep up the kind of effort they've given in the first nine games, it's hard to see the Hornets not maintaining their spot near the top of the West.
For Dallas? Look out. Once again, this is a great team, deep and talented, and they've just solved two of the best point guards in the league. You can't stop those guys, as proven by their stat lines. But by committing your defensive scheme to stop them, you can make life hard enough to get a win.