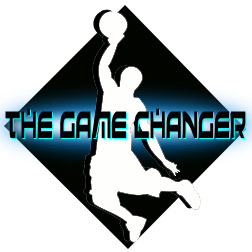 Posted by Matt Moore
Each game is made up of elements which help formulate the outcome. Monday through Friday, we'll bring you the elements from the night before's games in our own specialized version of the game recaps. It's not everything that happened, but it's an insight into what lead to the results you'll see in the box scores. This is
the Game Changer.
THE BIG ONE: MAVS TAKE A BAT TO THE HIVE
Take note of this. The
Hornets
were on the road in a hostile environment. They were facing a team that features a set of players that maximizes on several of their weaknesses, most notably the fact that no one has anyone who can guard
Dirk Nowitzki
and the Hornets have zero perimeter defenders to chase down
Jason Terry
, regardless of the results of a playoff series two years ago. The Hornets faced a stifling performance against
Chris Paul
which held him to two points and four assists in the second half and some heroic plays from Dirk Nowitzki on broken plays.
And the Hornets lost by only three.
If that's not a sign of how good the Hornets are, I don't know what is.
So how did they shut down Paul? Easy. They threw the kitchen sink at him. Take a look.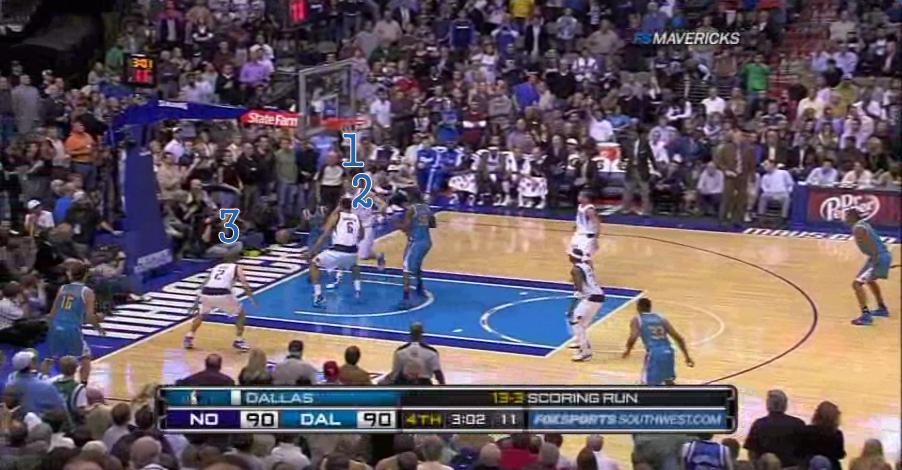 That's three defenders closing on Paul as he comes off a deep-wing three and rolls baseline. Nowitzki is tall enough to block out the sun so Paul can't lob, Kidd is cutting off the corner three even as he hedges to force Paul off the quick baseline turnaround, and
Tyson Chandler
is another big body keeping Paul baseline and cutting off the wing outlet. Paul's forced to move baselines to the corner with the shot clock winding down and take a contested step-back three that misses badly. Piece of cake. You just have to throw three defenders at him and hope
Willie Green
isn't smart enough to figure out that if he slices down the lane behind the defense Paul's going to have a perfect wrap-around for him.
In short, the
Mavericks
' defense was sublime in the second half and it still almost wasn't enough. Forget best point guard. Chris Paul so far might be the MVP.
GO-GO-GADGET LINES OF THE NIGHT
Tyrus Thomas
: 20 points on 11 shots, 10 rebounds, 4 blocks, 2 steals. We're going to ignore the 7 turnovers because we're nice like that and Thomas frowns enough.
Runners-Up:
Dirk Nowitzki:
25 points on 7-12 shooting, 10 rebounds, 3 assists. Nowitzki's rebounding is the highest both in raw per-game and percentages it's been in three years.
Carmelo Anthony:
20 points, 22 rebounds. We're going to give Melo the Gadget but this has to come with a preface. He took 19 shots, had 6 turnovers and was playing the
Suns
who couldn't rebound if Mose Malone's clone showed up for them last night.
Monta Ellis:
27 points, 3 rebounds, 3 assists, 1 steal, just 1 turnover in 31 minutes.
WHAT YOU MISSED
IT CAME FROM THE BLOGS
From
Orlando Pinstriped Post
on their quietly dominant win over the
Grizzlies
:
I believe the Magic really emphasized exploiting low-post size mismatched tonight, but with varying results. They cleared out to allow fifth option Quentin Richardson post up the far smaller, less physical O.J. Mayo inside, for instance. And Rashard Lewis had his shot against the likes of Sam Young and Tony Allen, but Lewis didn't enjoy similar success. Playing primarily at small forward, he shot 3-of-13 from the field and 1-of-5 from three-point range. While the Magic want--and, frankly, need--him to shoot a better percentage, I think the sorts of looks he got tonight are more in line with what we can expect for him the rest of the way. Brandon Bass' emergence at power forward has eaten into Lewis' time at that position, which means more play at the three for Lewis.

A DIFFERENT KIND OF COMEBACK
Similar to the Hornets, the
Jazz
faced insurmountable odds and still had a chance at the game winner. Unfortunately,
Andrei Kirilenko
took a pass from
Deron Williams
who was being shadowed similar to Paul, and elected for some sort of reverse underhand double-pump monstrosity of a shot intead of resetting the offense to work for a three and the Jazz' winning streak of comebacks fell short. The scariest part for the NBA?
Kevin Durant
woke up last night with 30 points on 17 shots. They hammered the Jazz inside to get to the line, and walked out of Utah with a win.
ANATOMY OF A NEAR-COLLAPSE
The Dubs were up by about a billion last night, killing the
Pistons
in the first half, before nearly letting the Pistons shove them back (while the Pistons were nearly shoving each other, but we'll get to that in a bit). Here's what it looked like, via our GameTracker.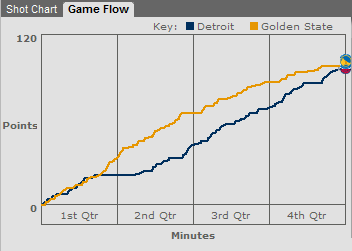 FINAL THOUGHTS
The
Nuggets
have very nearly no reason for letting the Suns beat them last night. The Suns were on a back to back after a remarkably hot performance against the
Lakers
in LA and have no rebounders. Bad stuff.
On surface,
Michael Beasley
's big night looks great. 28 points, 5 rebounds, 2 assists. But dig a little deeper and you find it took him 25 shots to get there and he was blocked three times. Beasley needs to be the Alpha Dog, he doesn't need to go off half-cocked, regardless of how bad the Wolves' offense is.
New Jersey? Not as bad as you think.
Follow F&R on Twitter at @CBSSportsNBA and check out our RSS feed . This has been your daily edition of the Game Changer.