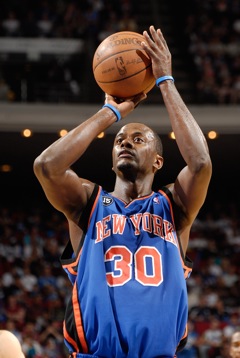 Posted by Royce Young
With
Robin Lopez
's injury more severe than expected, the
Suns
are left looking for a little help inside.
And ESPN.com reports
that a likely candidate to fill that role could be veteran journeyman Earl Barron.
One source told ESPN.com Monday night that Barron's signing in Phoenix is "likely" after the team announced earlier Monday that Lopez has suffered a sprain of the medial collateral ligament and posterior cruciate ligament in his left knee.
Lopez is expected to miss several weeks. He has started all nine games for Phoenix so far, averaging 5.3 points and 4.3 rebounds in 17.8 minutes.
Barron has been searching for a new team for weeks despite a very successful stint with the
Knicks
last season where he averaged 11.7 points and 11.0 in seven games.
Barron is a seven-footer out of Memphis and has been in the league four years. He spent time overseas before playing three season in Miami and then a small time in New York. He's certainly not anything more than a band-aid to get by while Lopez recovers, but in terms of capable big men that are available (and will take a non-guaranteed contract), he's a good fit.
It's interesting though because Erick Dampier has been mentioned several times with the Suns and this seems like as good a time as ever to go that direction. Dampier obviously will want a guaranteed deal and more money than Barron, but if he's in consideration, this could be the bump needed to go ahead an ink Dampier. But I'm pretty much convinced Erick Dampier is never going to sign anywhere.